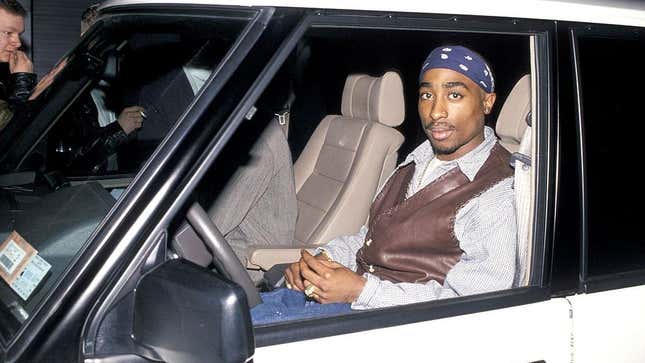 Recent news shows that new life has been given to the investigation of Tupac Shakur's tragic 1996 murder.

Jeezy Talks New Book, Life Lessons, His Love For Taylor Swift & More
The Root previously covered that Las Vegas Metro police searched a local home in the area Monday evening as a part of its investigation into the death of Pac. Video obtained by TMZ shows the standoff between SWAT and people who were inside the home.
It was later revealed that the home is owned by Paula Collins, who is married to 60-year-old Duane Davis, better known as "Keefe D."

In past interviews, Keefe has claimed to be a former crip and the uncle of Orlando Anderson, who is rumored to be the man who fatally shot Tupac in September 1996.
While no arrests have been made, it has finally been revealed what authorities seized from the home when they searched it Monday evening.
The Las Vegas Metropolitan Police Department collected a desktop computer, a laptop, a cell phone, a hard drive, a Vibe magazine that featured a story on Tupac, marijuana, .40-caliber bullets, tubs full of photos, 40 ink cartridges, and a copy of Keefe D's 2019 book, "Comtpon Street Legend," according to the Associated Press.
Keefe's book is a memoir, where he gives his "street-level accounts" on the deaths of Tupac, Notorious B.I.G., and the ongoing feud between the East Coast and West Coast during the mid-1990s.
In the book he wrote, "I'm one of the only living eyewitnesses to Tupac's killing, who also knows the much larger story around the reasons why both Tupac and Biggie were killed."
I hope he didn't think he was going to proclaim that without answering to police.
He also revealed in his memoir that was detained by local and federal authorities a decade ago, where he says that they offered to let him go if he gave specific details about the deaths of Biggie and Pac.
He wrote, "They offered to let me go for running a 'criminal enterprise' and numerous alleged murders for the truth about the Tupac and Biggie murders. They promised they would shred the indictment and stop the grand jury if I helped them out."
Shakur was allegedly killed shortly after he and many of his associates got into an altercation with Anderson and his crew at a Las Vegas Casino, according to the Associated Press.
In a 2018 interview, Keefe D also implicated his nephew, saying he was one of two people in the backseat of the car where the shots came from. Keefe stopped just short of saying who the shooter was the night of Pac's murder.
While it's a good thing that police are continuing to investigate the murder of Pac, what was the probable cause that allowed them to get a search warrant? What did investigators learn about Keefe D?

Whatever it is, I hope it leads authorities to make the first arrest they have ever made in connection with the beloved rapper's death.