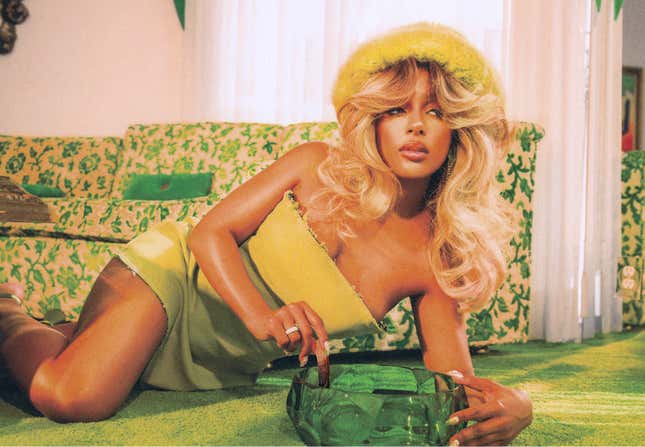 It's been two years, seven months, and 17 days since The Queen (and yes, you will address her as such) Victoria Monét descended from the heavens and blessed us lowly mortals with her breakthrough solo project, Jaguar. Comprised of the seductive smash "Moment," as well as other streaming favorites like "Dive" and "Jaguar," the 2020 release thrust the Sacramento native into the spotlight and drew the type of universal acclaim that other artists can only dream of—or pay for.

Why Creators of HBO Max's South Side Chose To Focus On That Part of Chicago
In the agonizing 22,999 hours since—because yes, some of us have been keeping count—the 33-year-old has been kind enough to tease us with anthems like "Coastin'" and the delicious "F.U.C.K.," in which Monét touts her sexual prowess while openly petitioning to be that highly-coveted "friend you can keep." She's also been making moves on the festival circuit, locked down her "very first headlining show ever" at the end of this month, became a mom, and signed on the dotted line with RCA Records—the same RCA Records that transformed Steve Lacy—another smoldering indie phenom—into an international sensation.
The stars are perfectly aligned for Queen Victoria to finally—finally!—reap the fruits of her labor (and multi-platinum pen) and achieve the crossover success that has eluded her thus far. (At least as a solo artist.) And now that she has RCA's muscle behind her, all she needs is the right song to propel her into superstardom—which brings us to "Smoke."
Combining superpowers with Lucky Daye sounds almost as unfair as it did back in 2020 when they hit us in the head with the ethereal "Little More Time," and their family reunion three years later feels like even more of a cheat code. Over a rolling bassline provided by D'Mile—arguably the coldest producer in the game—Monét and Daye take turns extolling the virtues of that wondrous leaf we all know and love.

"Little fireworks that light up for me
In my fingertips, I burn my worries
Do it somethin' like that eight-track, shorty
Keep it in rotation, it's a celebration every time we smoke"
Her highly-anticipated album, Jaguar II, can't come soon enough. But in the interim, grab a lighter and take a puff of your latest fix below.