On Friday evening in New York City, a line of young people snaked down Lexington Avenue in Manhattan and then curled around 91st Street all the way down to Third Avenue; the crowd was brimming with anticipation and excitement. They were en route to see Usher at the 92nd Street Y, which might be the most intimate venue he's appeared at in years. 
But Usher wasn't there to sing. Instead, he was at the famed Kaufmann Concert Hall to speak in a joint dialogue with Harry Belafonte about popular culture and activism. The discussion, "Breaking the Chains of Social Injustice," was moderated by former CNN anchorwoman Soledad O'Brien.
So instead of people shouting for "Yeah," there were many moments of applause and muted affirmations ("Mmmm-hmmm," "That's right") and the like.
The event was occasioned by the release of Usher's new single, "Chains," featuring Nas and Bibi Bourelly, and its music video, which features the faces of many of the dozens of unarmed African Americans who have been killed by police officers or neighborhood watch volunteers.
Belafonte, who is 88, had suffered a seizure the evening before en route to accepting an award, but Friday night he was hale, as well as his typically outspoken self (albeit in a gravelly tone of voice), with scathing words for President Barck Obama (the first black president without a black agenda, Belafonte noted). Of course, he has been critical of popular artists for not doing enough to address social injustice, but he gave a nod to Jay Z—who was in attendance—one artist Belafonte had called out specifically a few years ago.
G/O Media may get a commission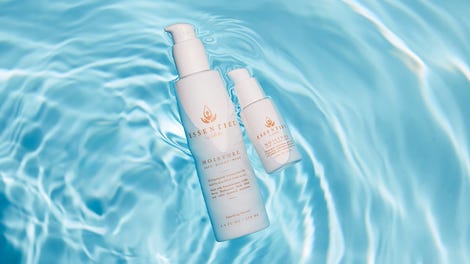 20% off
Essentiel by Adele
"Artists are the gatekeepers of truth," he said and praised director Steve McQueen's 12 Years a Slave, which functions as a strong rebuttal to those who would whitewash slavery in history books.
Usher, for his part, was low-key, more the studious graduate assistant to Belafonte's bristling professorial declamations. Usher spoke about the need to vote, "especially at the state and local level," and on several occasions he stressed the need for education, both via formal avenues like schools and informal avenues like books and websites. 
He shrugged off the term "activist" to describe himself, preferring to reserve it for people like Belafonte, who fought for civil rights with Martin Luther King Jr. in the '60s and has been a prominent voice demanding social justice for more than half a century. Instead, Usher preferred the term "actionist," and he hoped that his video would move people to get involved in various organizations like Sankofa, Belafonte's group. 
The evening's most compelling moment came when a question from the audience addressed dealing with the anger that rises over the current plague of social injustice. Belafonte noted that "anger with violence is ineffective, but anger combined with courage creates change." Usher added, looking at O'Brien, that the media would prefer violence because it makes for a better story, but that the real news happens off camera.
It was an effective rebranding for Usher, and the evening ended on a humorous note. When an audience member asked the two men to sing, Belafonte begged off because of how his illness had affected his voice. Usher flashed his million-dollar smile and said he didn't want to take away from the substance of the evening.
Martin Johnson writes about music for the Wall Street Journal, basketball for Slate and beer for Eater, and he blogs at both the Joy of Cheese and Rotations. Follow him on Twitter.