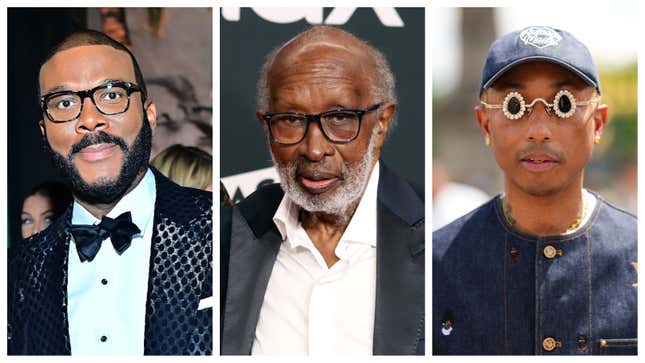 The passing of Clarence Avant, affectionately known as the "Black Godfather" of music, has those in Black Hollywood and abroad reminiscing on his life and legacy.
Nelson Estevez of Tyler Perry's The Oval Plays That's So Random
One of those people is Tyler Perry, who posted a series of pictures with and of Avant, reflecting on both his impact in the music business and love for his wife Jacqueline, who tragically passed away last year during a home invasion robbery.
"It is my belief that when two soulmates walk the earth together for many many years, be it through marriage or friendship or both, when one of them passes on the soul that's left on the planet longs for that love, that companionship, that connection," Perry began. "There is longing to be together again. As I think about the passing of Mr. Clarence Avant, I think about the beauty of him being reunited in heaven with his soulmate Jacqueline, and that makes my heart smile. I challenge anyone to try and find a corner of the music industry that wasn't touched in the best way by Clarence Avant also know as the Black Godfather. His legacy will live on on the top shelf, because that's how high he set the bar. And like every great legend, he left us all something to reach up for."
He continued, "You have done all you were suppose to do here my friend and we are all the better for it. Travel well dear sir. Sending my heartfelt love to Nicole, Alex, Ted and everyone in the family."

Pharrell Williams, music mogul in his own right also paid tribute to the legendary businessman, writing on Twitter:
"Clarance Avant was a visionary and a transcendent spirit. He is the ultimate example of what change looks like, what architecting change looks like, and what the success of change looks like. He stared adversity in the face in climates and conditions that weren't welcoming to people that looked like him. But through his talent and relentless spirit in the pursuit to be the best of the best, he garnered the support and friendship of people who otherwise wouldn't look in our direction. He showed them what we can be, what we can do, and how much more we can all achieve if you give us opportunity.

"He has been behind so many musical greats, people in and across the entertainment industry, and I'm so honored to have known him. He was a Godfather, a Godfather to the Black dream and a Godfather to the American dream. There will never be another like him. It's my hope and wish that others will see what he's done and try to go even further, because that's what he wanted and that's why he did what he did. He wanted to inspire. While running an extraordinary race in his lifetime, he passed the baton to us. The question now is how we're going to honor him and what we will we do with the baton."
"I give honor to GOD, my savior, and I give honor to his family, friends, and the countless people who have been impacted by his presence and time on this planet. Continued blessings and favor to Nicole, Alex, and Ted. Last but not least, his spirit is amongst the stars up in the heavens with The Master. Some people use the phrase 'passed away.' I don't because maybe the time has passed, but I don't know that you're away. Clarence went back up from whence he came… heaven. Blessings," he concluded.

The Rock and Roll Hall of Fame, of which Avant was inducted into back in 2021, said: "2021 Inductee Clarence Avant, known as 'The Black Godfather,' was cool, savvy, confident, and fearless—someone who made the seemingly impossible possible. Avant served a variety of roles during his illustrious career, including manager, label owner, concert organizer, event producer, political fundraiser, and mentor. He was the quintessential impresario, with an uncanny ability to connect people, open doors, and provide opportunities for countless musicians, actors, and politicians. Hall of Famer Bill Withers perfectly summed up Avant's impact: 'He put people together.'
Jay-Z's Roc Nation also issued a statement on Avant's passing, saying: "Clarence Avant isn't just the "Godfather Of Black Music," he is our cultural Godfather. Throughout his life, he burst through doors and tore down ceilings, changing lives and providing opportunities for generations. A true pioneer, a mentor and a champion, Clarence Avant is and always will be a giant among us."
"Absolutely crushed to lose you, Clarence," said Holly Robinson Peete on Twitter. "As one of your many Godchildren I don't know a world without you since I have known you quite literally my whole life. We will miss your wit, charm, encouragement and support of others, your love for your family… What a rich and beautiful & powerful legacy you leave behind. Reunited with the love of your life…beautiful Jacquie. Rest well eternally. Sending all my love to my Alex and Nicole & Ted & familly. Rodney & I love you all and are always here for you."
Magic Johnson also honored the legendary pioneer, writing in his post:
"Rest in peace to the legendary, game-changing 'Black Godfather,' and my great friend Clarence Avant. His accomplishments speak for themselves. As a former music manager, he founded two record labels and purchased the first fully black-owned radio station.

"He consulted many major studios in the 1970s and advised Presidents Jimmy Carter, Bill Clinton, George Bush and Barack Obama. He also served as chairman of the board at Motown Records, promoted Michael Jackson's BAD tour and is responsible for discovering many of the most incredible music artists we know today."
Two iconic reverends, namely Rev. Al Sharpton and Rev. Jesse Jackson also reflected on Avant's contributions:
"#ClarenceAvant was a revolutionary. When people in the entertainment world were delegated to a near master/slave relationship, he broke through that wall of exploitation and made us respected business people. I can't count the enormous amount of situations that he negotiated," Sharpton wrote, before continuing: "I can't count the moves he made happen that I was personally involved in. He was indeed the Black Godfather! RIP, Clarence. We'll never forget you and won't let the world forget you either."
Jackson said: "#ClarenceAvant, a legend in the music industry, was the go-to guy for many of us in the music industry including #BerryGordy of Motown, #AlBell of Stax Records, and a countless list of others. He helped promote their careers and expand their businesses. #ClarenceAvant discovered Bill Withers. He was a great friend and I admired him greatly. What a mighty tree. My wife Jackie &our family send our sincere condolences&fervent prayers to Nicole&Alexander. Rest in heavenly peace."
Other notable figures who wrote fondly of Avant included Bill Clinton, Kevin Liles, Matthew Cherry, Kevin Powell, Clive Davis and more.
As previously reported by The Root, the entertainment icon died on Monday at age 92. No cause of death has been revealed. The Root sends its condolences, thoughts, and prayers to all those who knew and loved Clarence Avant.