"I think Chanté exemplifies the title Unsung," says Jermaine Dupri's father, Michael Mauldin, who once managed Chanté Moore. And he definitely has a strong argument. It's hard to see how Moore—stunningly beautiful, with a pleasant personality, down-to-earth demeanor, killer vocals and strong songwriting chops—didn't drown in gold and platinum plaques. After all, quite a few other singers who are far less capable have certainly managed more.
"She has octaves that only the likes of Minnie Riperton and Mariah Carey can hit," proclaims Moore's manager, Cheryl Cobb-DeBrosse. Kurupt—yes, from the Dogg Pound, out of Snoop Dogg's camp—rightfully notes that Moore's "voice separates her from the pack" and humorously teases, "Don't break the glass, Chanté," to fully convey the power of her gift. Yet "Chanté's Got a Man" is Chanté's biggest hit.
Despite dutifully outlining her career and the many players in it—most notably the impact of record producer and label honcho Louis Silas, who relentlessly supported and championed her—Unsung never fully addresses exactly why Moore, 48, never took over. Truthfully, the show seems perplexed by the very prospect of it all. What it does deliver, however, is an intimate portrait of Moore that paints her as an everyday woman. In this age of carefully cultivated media images and public personas, that in itself is refreshing.
It comes as little surprise that the church played a prominent role in Moore's childhood. Her parents, Larry and Virginia Moore, were itinerant preachers. Her father, whom Moore performs with on camera, also plays piano, and her late mother sang.
But it's not music per se that makes her Unsung segment shine. Instead it's Moore's vulnerability and willingness to share her personal highs and lows. Not many women are brave enough to acknowledge on national television that they were raped, as well as their own naivete in not realizing that they were even violated until many years later. And though it's not uncommon to hear horror stories of how cancer decimated a loved one during Breast Cancer Awareness Month, Moore's purging resonates because, some 20 years later, the pain of losing her mother is as palpable as ever. 
G/O Media may get a commission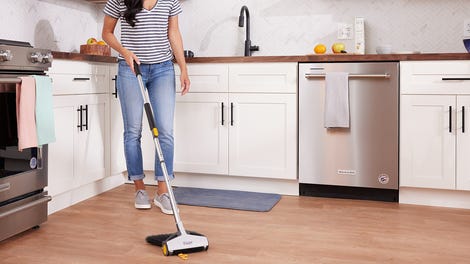 BOGO 50% Off
Flippr - BOGO 50% Off
When it comes to the affairs of the heart that have so characterized her music, Moore's personal experiences strike a chord regarding the broader issues of marriage and religion. In Kadeem Hardison—still best known as Dwayne Wayne from A Different World—she found the love of her life, and yet their union ended in divorce, her second. Interestingly, she proffers that Hardison's reluctance to marry early in the relationship, which won out over her strong Christian desire to make the union official in the eyes of the Lord, ultimately weakened their bond. In hindsight, she feels that not establishing that solid foundation early on made it nearly impossible for the two of them to tough out the marriage, which produced their daughter, Sophia.
As fans of R&B Divas: Los Angeles—the TV One reality show that Moore admits has given her new wind—know, her divorce from Kenny Lattimore has been less than amicable. Here, Moore doesn't address the salacious rumors surrounding his sexuality, but she and others do ponder how their perfect picture shattered.
In the biblical sense, they did everything right. There was no sex before marriage. They chose to steer their careers toward duets to minimize their time apart, plus they used their music to extol the virtues of how sexually gratifying a Christian marriage could be. They even had a child: their son, Kenny Lattimore Jr. Still, they just didn't make it. And even worse, their uncoupling has been downright unchristian.
As presented in Unsung, Chanté Moore is very much a woman who, like so many others, has struggled with love, self-acceptance, relationships and singlehood. Perhaps her everyday-woman realness, however, is the prime reason that big-time stardom has eluded her. Do we really want our entertainers, especially women, to be relatable? Judging by the rare air that both Rihanna and Beyoncé breathe, the answer is a resounding no.
So, ironically, the loving and respectable upbringing that her parents provided, and the classy, ladylike image that she's maintained over the years, may well be Moore's kryptonite. From the outside looking in, being good, normal and talented is just not the secret formula to stratospheric stardom in the music industry.
Editor's note: Unsung: Chanté Moore airs on TV One Wednesday, Oct. 28, at 8 p.m. EDT.
Ronda Racha Penrice is a freelance writer living in Atlanta. She is the author of African American History for Dummies.