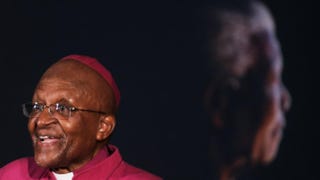 Looks like not everyone in South Africa was feeling the loving spirit of Nelson Mandela's memorial. Police say that burglars robbed the home of retired Archbishop Desmond Tutu the same day that he spoke at the service, the Associated Press reports.
Robbers broke into Tutu's Cape Town home Tuesday night while the 82-year-old was attending the memorial of his close friend, Mandela, who died Dec. 5 at age 95 in Johannesburg.
According to AP, the police issued a statement saying that no arrests have been made and that this was the third time that Tutu's house was victimized in recent years.
Robbers broke into Tutu's Cape Town home in August, while he and his wife, Leah, were sleeping. The two were not harmed, AP reports. Tutu's Nobel Peace Prize was stolen from his Johannesburg's Soweto township home in 2007. Police later recovered it.
A spokesman for the retired archbishop confirmed the robbery with AP, but Tutu and his wife couldn't immediately establish what had been stolen, he said.
Read more at Associated Press.