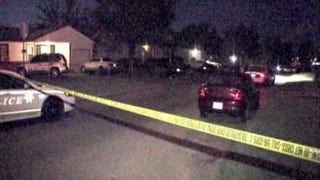 According to CNN, the two men accused of fatally shooting three black people in Tulsa, Okla., earlier this month, Jake England and Alvin Watts, have been charged with murder as well as hate crimes. The local Tulsa Crime Stopper hotlines also revealed that England had "bragged about other shootings," in addition to writing that his father had died "at the hands of a f—king n-word" in a Facebook post on April 5.
England's lawyer Clark Brewster met with media and presented a video of his client discussing having grown up in a diverse community in which he had friends across color lines. Still, the alleged killers have been charged with what amounts to a hate crime for the deaths of Bobby Clark, Dannaer Fields and William Terrell Allen.
 CNN reports:  

Tulsa County District Attorney Tim Harris on Friday filed charges against both men on three counts of first-degree murder tied to the deaths of 54-year-old Bobby Clark, 49-year-old Dannaer Fields and 31-year-old William Terrell Allen.

They also face two counts of shooting with intent to kill related to the two people who were wounded, according to the press release from the district attorney's office.

In addition, the men face five counts of malicious harassment. The district attorney notes that, according to Oklahoma law, the charge infers that a person has acted "maliciously and with the specific intent to intimidate or harass another person because of that person's race, color, religion, ancestry, national origin or disability."

The charge is equivalent to a hate crime under Oklahoma law, according to Partners Against Hate, a joint project of the Anti-Defamation League, the Leadership Conference Education Fund and the Center for Preventing Hate nonprofit groups. 

Read more at CNN.