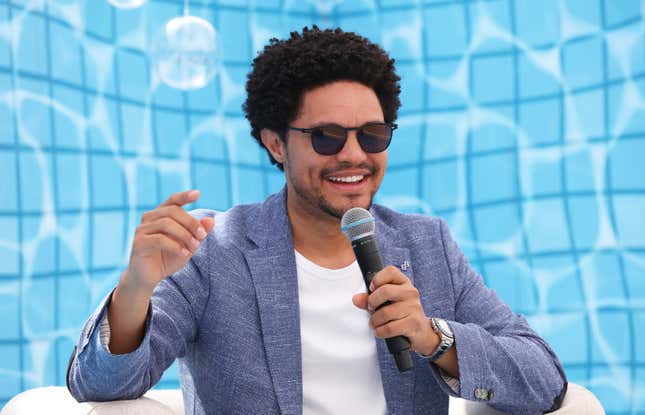 Our collective hearts broke a little when Trevor Noah left his post as host of The Daily Show in December after making us laugh about the latest headlines for seven years. But fans recently got news that might lessen the pain of his absence (at least a little bit).

Hair Waves Are Easy to Achieve With This Black Hack
This week, it was announced that the host, comedian and bestselling author is teaming up with Spotify to host a weekly original podcast on the platform. So although we still won't be able to see him every night, we'll at least be able to hear his voice, which isn't a bad compromise if I do say so myself. The announcement was made during a June 20 conversation between Noah and Spotify co-founder and CEO Daniel Ek at Spotify Beach at the Cannes Lions International Festival of Creativity.
According to a statement for the show, the yet-to-be-named podcast, which launches later this year, will feature Noah's hilarious takes on the most important issues of the moment as well as "in-depth and freewheeling conversations between Trevor and some of the most influential and interesting figures around the world."
According to Noah, some of the episodes will be funny and some will be deep. But every episode will feature stories that people will want to share. So if you're not listening, you're going to be seriously missing out.
"It's really exciting to be joining Spotify on a fun new adventure where we'll engage in interesting and meaningful conversations with some of the world's most fascinating people," the comedian said in a statement. "We'll also probably fix every single issue humankind has ever faced, so you definitely want to join us for every episode."
"We are excited to collaborate with Trevor to create an original podcast that seamlessly combines his unique humor, insightful commentary, and consummate interview skills on a global scale," said Julie McNamara, Spotify VP, Head of Global Podcast Studios.