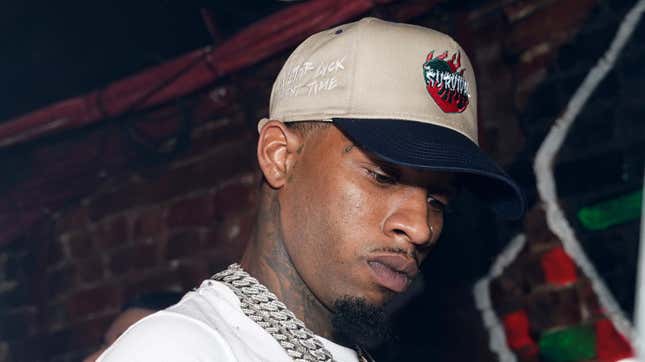 Despite Tory Lanez and his legal team's best efforts to get an appeal against and even bail set for his 10-year prison sentence for shooting Megan Thee Stallion, a judge decided against both on Thursday.
Will The Real Black Journalists Please Stand Up
That meant that Lanez has no choice but to live out the next 10 years of his life in a cell, but before he does, he reportedly had one more move to pull. Per legal affairs journalist Meghann Cuniff, the reporter who has been closely following and detailing information about the case since it began and was present in the courtroom when Lanez bail was denied, the Canadian rapper used his final moments in court to call her out her name.
"I didn't hear it and I'm still working to see if transcript has it, but I've confirmed Tory Lanez chose to use his final courtroom moments to profanely insult me, calling me 'a googly eyed bitch' as he looked at gallery," she wrote in a tweet following the hearing. "Conflicting reports on whether he named me. A fitting end."
In response to a user on Twitter, who said they wanted to see him make that comment on-camera, Cuniff further added: "Cross your fingers the court reporter got it in the transcript! Source tells me "several people in court heard it, including some of the deputies. I doubt the court reporter picked it up."

Well, well, well. If it isn't the consequences of Lanez's own actions finally coming into play. But yet again, instead of taking responsibility for his own actions, he'd rather try to place blame on everyone else—including a reporter for simply doing her job. Newsflash Tory: if you never committed a crime, she'd have nothing to report on.

But truthfully, it's not about Cuniff. It's about Lanez causing his own demise and now having to face up to it behind the cramped four walls of a prison cell. Like the saying goes: "play stupid games, wiz stupid prizes." And unfortunately for the "Say It" rapper, he's just hit the jackpot. No amount of appeals or name-calling can fix that.