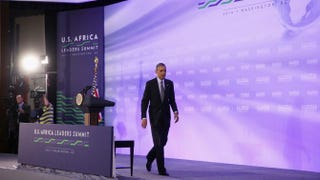 "NEPA take light!"
It's a popular phrase used by Nigerians when the lights go out. The country's now-defunct National Electric Power Authority wasn't the only energy company that struggled to provide reliable power to its citizens. Access to consistent electricity is a widespread problem in Africa, and the U.S. has identified the crisis as one of its top international development goals. That's why senior U.S. energy officials, their counterparts from several African nations and private companies looking to strengthen Africa's power grids are meeting in Washington, D.C., this week for the Powering Africa Summit.
"Seven unique sessions will outline the global commitment to improving access to power across the African continent," according to a press release issued by EnergyNet, the organization hosting the summit.
The statement went on to describe the initiative's goals. It's hoping to power the homes of 75 percent of the sub-Saharan Africans currently living without electricity. "[The summit] will also serve as a platform to encourage deals to be brokered between governments and power companies with the end goal of delivering power to the 2 out of 3 sub-Saharan Africans who live without access to electricity," the press release explained.  
U.S. Energy Secretary Ernest Moniz is expected to deliver remarks at some point during the two-day event, which began Wednesday.
During the U.S.-Africa Leaders Summit hosted by the Obama administration in Washington in August, President Barack Obama introduced the Power Africa initiative—a global commitment to "increase electricity access" and add "cleaner, more efficient electricity" throughout sub-Saharan Africa.
Read more at EnergyNet and the U.S. Agency for International Development.