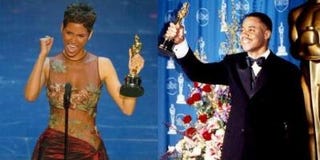 Award-show season may be upon us again, but there's never going to be another first African American to win an Academy Award, and we can't imagine a recipient matching Cuba Gooding Jr.'s level unself-conscious glee when he won a best supporting actor Oscar for his role in Jerry Maguire. So at least a couple of these black award-show speeches are safe from getting bumped off the Top 5 of All Time list in 2012.
While the Academy Awards, Daytime Emmys, Essence Awards and the like honor the work of actors and artists, we all know the speeches themselves are meaningful performances in their own right. Some are poignant because they make history, others for their emotion, and others earn a place in our collective memory for the way they perfectly capture cultural moments. If there were a "best award-show speech" category for black celebs, these would be the five nominees:
5. En Vogue, R&B Single of the Year, "Hold On" (1991 Billboard Music Awards)
Was it a speech or a musical performance? Both, and that's why it was unforgettable. You have to like the way the ladies of En Vogue dispensed with the whole "We're so surprised! We don't have a speech prepared" notion and flawlessly sang their acceptance in the style of their award-winning single, "Hold On." Points for originality, capturing the spirit of the R&B of the early 1990s, and of course, great live vocals.
4. Debbie Allen (1992 Essence Awards)  
In 1992, at the first televised Essence Awards, Allen was honored for her role in expanding artistic opportunities for all African Americans. Presenter Oprah Winfrey said it best when the multitalented Fame star stepped off the stage: "Now, that was an acceptance speech!" Allen, of course, is an actor, choreographer, dancer and producer, but after this show, she could have added "motivational speaker" to her résumé. She brought down the house with this closing line: "A child, an explorer of the yet-expanding universe … I am woman, I am black, I am beautiful, I am bold, I am confident, I am in my form human and mortal, yet in spirit, divine. Thank you."
When Oprah was awarded the Lifetime Achievement Award at the 25th Annual Daytime Emmys, it was more than a little premature. But it was clear from her remarks that she knew her life's work wasn't even close to being complete. She thanked all the big names in her life, including Stedman, Maya Angelou and Gayle, as expected, but also managed to hit just the right note, recalling her past ("Being a colored, then Negro, then black, then African-American child, growing up in Mississippi, my prayer was, God, use me") and looking to the future ("I want to continue to use television … to make people lead better lives"). So far, she's made good on the speech's promise.
2. Cuba Gooding Jr. Best Supporting Actor, Jerry Maguire (1997 Academy Awards)
Gooding gets huge points for his good-natured, unabashed display of glee after receiving the best supporting actor award for his role in Jerry Maguire. Forget Hollywood faux coolness. He captured the joy many of us feel every time a black actor is recognized after so many are overlooked or struggle to find worthy roles in the first place: "I love you! A million times. I love you all! Tom Cruise! I love you, brother! I love you, man! … Everybody, I love you. I love you all. Cameron Crowe! James L. Brooks! James L. Brooks, I love you. Everybody who's involved with this, I love you. I love you. Everybody involved."
http://www.youtube.com/watch?v=cnCMqr1QRQw
1. Halle Berry, Best Actress, Monster's Ball (2002 Academy Awards)
Berry was the first African American to win the Academy Award for best actress. Enough said. This would probably make the list even if she'd just mumbled "thank you" and fallen off the stage. Some nitpicked that the speech was overwrought, and others took issue with the nature of the role it took to earn the landmark award, but Berry's emotional outpouring was just right for the scope of the occasion. Crying throughout the entire speech, she thanked everyone she could think of and brought half the audience to tears by placing the honor in proper historical context, saying, "This moment is so much bigger than me — this moment is for Dorothy Dandridge, Lena Horne, Diahann Carroll, Jada Pinkett, Angela Bassett, Vivica Fox and for every nameless, faceless woman of color that now has a chance because tonight this door has been opened."
Halle Berry's Emotional Oscar® Acceptance Speech - The best bloopers are a click away
Like The Root on Facebook. Follow us on Twitter.