If Beale Street Could Talk, it would say, "Y'all did that!"

In writing about Barry Jenkins' If Beale Street Could Talk, I made it no secret just how much Nicholas Brittell's hauntingly beautiful score affected me. "Eden" still makes me feel feelings and see sounds, man. The film's entire soundtrack is glorious, in fact.
On March 7, the highly talented director posted cover art featuring Tish (KiKi Layne) and Fonny (Stephan James) along with a teasing tweet, "Soon Come." And the smiling devil emoji. Naturally.
I didn't know what "soon" meant exactly, but best believe, I still counted down the days like a fucking unaware abacus.
G/O Media may get a commission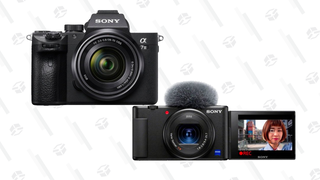 Cyber Monday Deals
Sony Camera Sale
Then, the blessed day came. Monday, March 11. Yes, I'm documenting it. Barry performed the ultimate magic trick and made Monday magical by posting the link to the playlist on Twitter.
Produced by DJ Candlestick and OG Ron C (part of the phenomenal team known as "The Chopstars"), If Beale Street Was Chopped is the perfect background on a business day. Hell, I feel infinitely more productive and fruitful after listening.
From "Bonita Applebum" to "I'll Take You There," this playlist takes you on an eclectic journey that'll leave your ears satisfied. Seriously, I didn't know I needed chopped and screwed Anita Baker until this very moment. And her voice already compliments the music style, so it smoothly blended into the most equally-yoked relationship.
In case you missed it, this isn't Barry's first collaboration with The Chopstars. Remember that chopped and screwed version of Jidenna's "Classic Man" while adult Chiron and adult Kevin transported that palpable tension from the diner scene to the car? It was great, right? Well, the Purple Moonlight soundtrack expanded on that greatness.
Said brand marketer and TV/Film critic, Joi Childs: "ICYMI: I stan down for the PURPLE MOONLIGHT tape. And I hope that Barry and The Chopstars do this for all his films. Hell, retroactively do one for Medicine for Melancholy."
Agreed, let's go ahead and make one for Medicine for Melancholy, as well. Hell, why not? A whole ass musical anthology tribute to the visual orgasms Jenkins decides to share with us. The (Beale) streets need it.
Listen to the full If Beale Street Was Chopped playlist below:
Direct link at audiomack.com. Get your life. Then, chop and screw it.