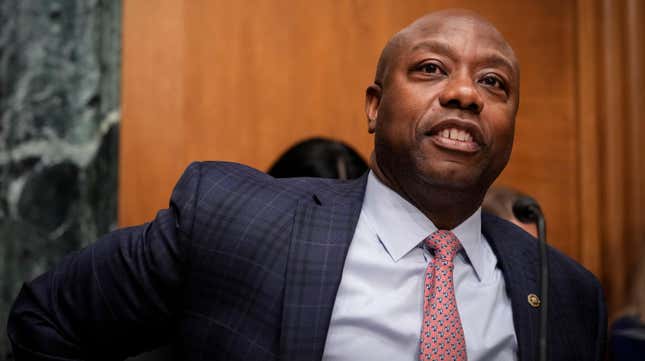 Tim Scott, who felt the peculiar need to run as a 2024 GOP presidential candidate, has infamously stated time and time again that America doesn't see color. "Hear me clearly," Scott said in 2021. "America is not a racist country."
White People, Here's Why We Need Black History Month
He has amplified this sentiment over the years, including after the 2022 Buffalo massacre in which Black folks were explicitly targeted and murdered.
Scott has palpably denied systemic racism during his presidential campaign, hoping to win over conservatives who love seeing their dirty work carried out by people of color.
He says proof of his assertion can be seen in political strides from Black Americans. "The fact of the matter is we've had an African American president, African American vice president, we've had two African Americans to be secretaries of state," Scott stated.
"In my home city, the police chief is African American who's now running for mayor." However, it looks like Scott has acknowledged the bigoted elephant in the room.
In an interview with The Washington Post, Scott admitted that the reason his single status has come under fire lately is because folks want to unfairly attack a Black man.
Scott says that opposing campaigns are zeroing in on him being unmarried as a strategy to "sow seeds of doubt" and to imply "that guy isn't one of us."
"It's like a different form of discrimination or bias," Scott explained. "You can't say I'm Black, because that would be terrible, so find something else that you can attack."
This isn't the only time Scott, who is the first Black Republican from the South elected to the Senate since Reconstruction, has acknowledged how Black people are disenfranchised. When Ron DeSantis insisted slavery was beneficial for Black people, Scott spoke up.
"What slavery was really about was separating families, about mutilating humans and even raping their wives. It was just devastating," Scott said in July. "So I would hope that every person in our country — and certainly running for president — would appreciate that."
Scott is well aware of the racist history of this country. Even though we've seen numerous cracks in his armor, he will still do anything to appease to his hateful base.