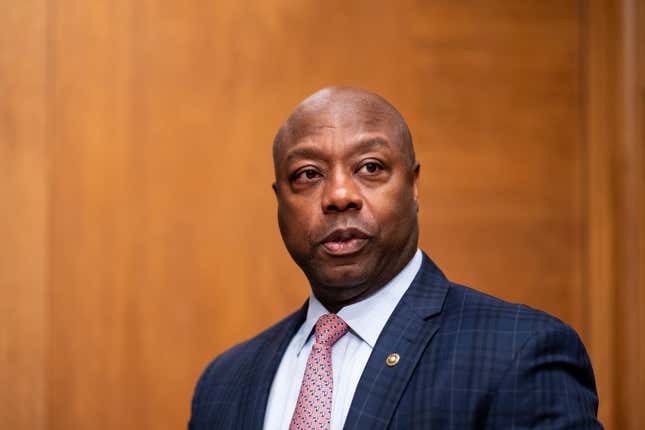 South Carolina Republican Senator Tim Scott has been battling a somewhat bizarre critique of his candidacy — namely, why, at 57 years old, his ring finger is noticeably bare.

Comedian London Hughes Talks New Book, Parents Watching Her Very Sexual Comedy, & Beyoncé
Last month, Axios spoke to "top GOP donors" who were reportedly in a tizzy over his unmarried status. And on Tuesday, the Washington Post released their interview with Scott — where he set the record straight about his relationship... sort of.
Scott said he has a girlfriend (which he's said before) but refuses to name her and open her up to press scrutiny. The Washington Post spoke to several of Scott's friends, who said that they had no idea he was seeing someone. However, his campaign manager told the Post that she had hung out with his girlfriend at the zoo.
The story will likely do little to squash questions about why he's a bachelor at fifty-seven. But as Scott himself points out, that kind of feels like no one's business.
"The fact that half of America's adult population is single for the first time, to suggest that somehow being married or not married is going to be the determining factor of whether you're a good president or not — it sounds like we're living in 1963 and not 2023," Scott told Axios in May.
The American public hasn't elected an unmarried man as President in the last 139 years. And for someone like Scott, whose favorite talking points are old-school conservative values and his family, it seems like this has become something of a sticking point.
It's also possible, as one Republican operative told this reporter, that people don't want to say why they're pulling back from Scott — i.e., that he's boring.
Scott made the opposite of a splash in his first primary debate. He got barely more speaking time than Governor Doug Burgum and Asa Hutchinson, and everyone on stage more or less ignored him. And he was noticeably absent from any post-debate coverage, except for people remarking on how little they noticed him on stage. There's also the undeniable fact that the Republican party has a race problem.
So maybe Republican donors are scared of a bachelor President, or maybe they just aren't that interested in Tim Scott. Either way, the world isn't really any closer to cracking the mystery of Scott's love life, and honestly, that seems fine.