They're bold. They're bright. And they've been worn by some of entertainment's biggest names, including actress and producer Lena Waithe and Lupita Nyong'o.

But the most amazing part of those "Flexin' in my complexion" shirts making the rounds of Hollywood? They were created by a then-10-year old, in response in bullying she endured because of her dark skin.
In a recent interview with CNBC, 11-year-old Kheris Rogers opened up about that experience—which she and older sister Taylor Pollard turned into a thriving business.
The sisters say that throughout her elementary school years, Rogers was bullied because of her dark complexion. Growing up in Los Angeles, Rogers was regularly teased by kids at her majority-white school in first grade, but the bullying continued even when she switched to a more diverse school.
So in 2017, Pollard did what any great big sister would and gave Rogers a feel-good boost. She snapped a gorgeous photo of her younger sister posing in a red, black and greenred floral dress and added the caption, "my sister is only 10, but already royalty." She added "#FlexinInHerComplexion"—a phrase commonly uttered by their Louisiana-raised grandmother, according to CNBC.
G/O Media may get a commission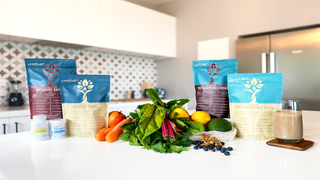 The post went viral—and the flood of supportive messages prompted the sisters to consider how they could keep up that same pro-melanin energy. They decided to turn their grandmother's phrase into a motto they could put onto t-shirts—and thus, their business, Flexin' In My Complexion, was born in April 2017.
The sisters learned how to screen-print T-shirts, originally setting up shop in their mother's garage. From those humble beginnings, the two sisters have sold 10,000 shirts and garnered $110,000 in revenue, CNBC reports.
Their site, FlexinInMyComplexion.com, now sells their trademark tees for $20, as well as matching sets, a "Flexin' in my Complexion" baby bib, fanny packs, visors, and "Coolest King in the Universe" hoodies—a pointed correction to the H&M "Coolest monkey in the jungle" t-shirt that went viral for all the wrong reasons earlier this year.
Now Rogers, who used to soak herself longer in the bathtub in hopes that her skin would turn lighter, has been featured as Alicia Keys' #WCW, and has received endorsements (unprompted, mind you) from the Style Gawd Lupita Nyong'o herself.
So, if we're on the subject of "self-made" young women and girls, Rogers and Pollard—sisters who harnessed their creative energy and love for their family into an empowering, pro-black business—are a good place to start.