Remember John Lewis?

Remember how our pear-shaped, pumpkin-colored president got butt-hurt when the civil rights hero said he didn't see Donald Trump as a "legitimate president"?
Remember how Receding-Hairline Hitler jumped on Twitter and tweeted:
This weekend, while Trump was at his Mar-a-Lago resort in Florida meeting with his "alt-right" all-star team that included Jeff "Jim Crow" Sessions, white nationalist Stephen Miller and "voice of the alt-right" Steve Bannon, John Lewis was busy leading a bipartisan delegation of congressmen and women on a pilgrimage to commemorate the 52nd anniversary of Bloody Sunday in Selma, Ala.

G/O Media may get a commission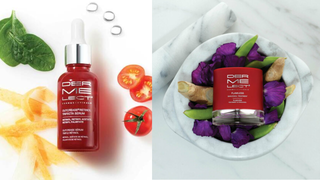 Save $19
Retinol Renewal Kit
As part of the annual trek, sponsored by the Faith & Politics Institute, Lewis led 16 lawmakers on a civil rights tour of Selma, Montgomery and Birmingham in Alabama; met with foot soldiers from the historic movement; and participated in the annual crossing of the Edmund Pettus Bridge—where Alabama state troopers clashed with protesters half a century ago in a march that historians say galvanized Congress to pass the Voting Rights Act of 1965.
As Lewis enlightened Republican and Democratic representatives about the struggle for equal rights, President Trump was pretty busy, too. Between rounds of golf, the Kraft Mussolini With Cheese set aside some of his precious time to tweet, accusing former President Barack Obama of tapping his phones.
It was a hectic weekend for both politicians. Trump had his hands full dodging questions about how his attorney general lied to Congress, his ties to Russia and how he planned to strip health care from millions of Americans. Meanwhile, the man Trump accused of "all talk, talk, talk—no action or results" shared stories about the time police officers fractured his skull while he peacefully marched for the right to vote, and when angry white mobs bombed a bus and beat him to within inches of his life for desegregating interstate transportation as one of the original Freedom Riders. He celebrated the women of the civil rights movement with the congressional delegation, and while Trump spent his fourth of five weekends roaming a golf club, hitting a few balls, the 77-year old Lewis even treated Republicans, Democrats and foot soldiers of the civil rights movement to dinner and dancing.
So what does it look like when a civil rights legend "turns up"? Like this:
At a time when politics have become more divisive than ever, Lewis found a way to use his stature as a statesman and an American hero to bring the men and women who make this country's laws face-to-face with the sacrifices brave heroes made to secure freedom and justice for everyone under the American umbrella.
It is an example of the stark contrast between the men we call leaders: John Lewis, the "all talk ... no action" statesman who continues to fight for understanding, unity and equality 50 years after he risked his life; and Donald J. Trump, sitting in plush comfort, popping bottles like a gangsta rapper, starting beef, tweeting about how he's got "the feds watching."