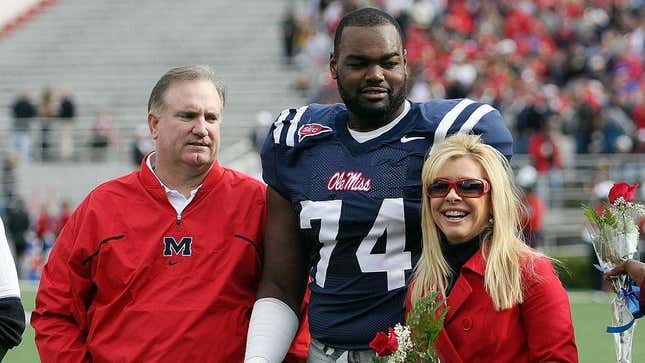 What some people think was a beautiful and inspiring story about triumph has become a drama-ridden back and forth between two sides with opposing accounts of what truly happened in Michael Oher's story.
5 Days Before Court Petition, Here's What Michael Oher Told The Root About The Blind Side
Just days after Oher claimed that the Oscar-nominated movie "The Blind Side" was BS and that he was never actually adopted, it has been a nonstop onslaught on the Tuohy family. Not only were they accused of tricking Oher into signing a conservatorship document, but they also allegedly took home millions of dollars from the royalties of the movie while the real-life subject of it, Oher, did not receive a single damn cent.
In a statement sent to Deadline from Martin Singer, who represents Sean and Leigh Anne Touhy, the attorney denied all of the allegations made against his clients and claimed that Oher attempted to blackmail the Tuohys, saying he would put out a negative story about them in the press unless they pay him $15 million.
"Anyone with a modicum of common sense can see that the outlandish claims made by Michael Oher about the Tuohy family are hurtful and absurd. The idea that the Tuohys have ever sought to profit off Mr. Oher is not only offensive, it is transparently ridiculous. Through hard work and good fortune, Sean and Leigh Anne have made an extraordinary amount of money in the restaurant business. The notion that a couple worth hundreds of millions of dollars would connive to withhold a few thousand dollars in profit participation payments from anyone – let alone from someone they loved as a son – defies belief.

In reality, the Tuohys opened their home to Mr. Oher, offered him structure, support and, most of all, unconditional love. They have consistently treated him like a son and one of their three children. His response was to threaten them, including saying that he would plant a negative story about them in the press unless they paid him $15 million.
Singer further claimed that Michael Lewis, the author of the book, "The Blind Side: Evolution of a Game," negotiated a deal in which he and the Tuohy family were given an advance before the movie's release from the production company.
He claimed that there was an agreement that the money would be "divided equally" between the Touhys and Oher. Singer said his clients have honored that agreement and have given him an equal cut on every payment.
This is turning into a classic battle of "he said, she said" and until either said can prove the other wrong, I have a feeling that the back-and-forths between Oher and his "parents" are going to continue.

The fake image of a cute little white family taking in a troubled Black teenager and giving him a place to sleep, eat and learn about football is slowly being washed away from my memory.