Up until last year, I had three pairs of bras in my regular rotation—none of which fit very well. My favorite one, a purple demi bra with a wide band, had become warped by years of laundry cycles. There was a t-shirt bra, ordered online, which thankfully managed to stretch along with me as my metabolism slowed in my early 30s, but still was clearly at least a cup size too small. And there were one or two others, so forgettable I can't even conjure up their images.
My approach to intimate apparel was completely utilitarian—tuck the girls away and don't draw any more attention to them than necessary, lest you come off as gaudy or tacky. But sometime last year, something shifted.

It may have been a breakup (those are pretty good at shifting things, after all). It may have been our company beauty Slack, where women across departments converged to recommend everything from nail salons and the perfect matte red to lingerie sales and the perfect one-piece swimsuits. It may also have been the hypervisibility of "inclusive" lingerie campaigns—the most notable, in my memory, being Rihanna's Fenty x Savage launch.

I can say for certain it is at least partially due to Cora Harrington.

Harrington has been blogging about intimate apparel since 2008, a part-time passion that became a full-time gig in 2012 with her website, The Lingerie Addict. Last year, Harrington published her first book, In Intimate Detail. The sumptuous volume is like "a Cook's Illustrated of underwear," writes The New Yorker; it hit bookstands at a time when American clothing brands, including lingerie, are attempting to be more inclusive in ways they historically have not been—particularly in terms of price points, size, and racial representation.
G/O Media may get a commission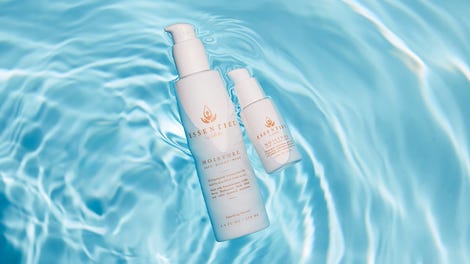 20% off
Essentiel by Adele
But Harrington's In Intimate Detail is exceptional in the way it combines practicality with beauty, perfectly synthesizing Harrington's ethos when it comes to lingerie: that exploring intimate apparel can be a pleasurable, substantial, and fulfilling romp, in and of itself.
"I've always been interested in expressions of femininity and expressions of femme-ness and how our clothing kind of defines our identity and our concept of self," Harrington told The Glow Up.
"I wanted to make a book that was inclusive that felt like a welcoming introduction to intimate apparel," she said. "I wanted to write a book that felt like would have been what I would have wanted to read before I started my blog."
Harrington successfully suffuses the book with the very qualities that make her such a compelling online personality: she marries technical expertise with a sincere appreciation for the beauty, history, and potential of lingerie.
In Intimate Detail, she walks readers through different kinds of intimate apparel (there are sections for bras, shapewear, hosiery, underwear and loungewear, as well as practical tips for shopping and caring for your garments). In the bra section, for example, Harrington gives a brief rundown on different styles of bras, including snippets of fashion history and technical terms (it turns out my favorite purple bra was a "longline bra"), before offering easy-to-follow tips on how to find your perfect bra size. Adorning the books' pages are watercolor illustrations that give the book an "art book" feel. Notably, Harrington opted for illustrations of intimate apparel, rather than photos of models wearing lingerie, to help readers focus on the clothes rather than get caught up in judgments about how they should look in them.
She is equally intentional about being inclusive. There are sections on special bra-fitting and underwear-fitting concerns, which offer guidance on what apparel to look for if you're trans or non-binary, if you have augmented breasts or skin sensitivity, if your breasts are plus size, or if you have a physical disability.
"I know what it's like to not be included in the intimate apparel industry," Harrington said."I'm a black woman and I'm queer and I feel like I'm aging out of the demographic that most lingerie brands want to target right now."
She remembers going into department stores and lingerie boutiques looking for a nude bra in her skin tone, and being told that a beige bra works for every skin tone. Or going into boutiques and being skipped over or ignored by attendants in favor of other customers—experiences not unfamiliar to black women. Even today, despite her dexterity and expertise—while Harrington can talk just as skillfully about the details and history of a garment, she's also an astute critic of the industry itself—Harrington says she's still shunned by many lingerie brands and insiders.
The welcoming space Intimate Detail provides hinges a great deal on giving women and femmes the language to understand intimate apparel—and by extension, their bodies. It's helpful to understand how vertical seams in a bra can give you more lift than a horizontal one, but it is all but impossible to find a bra that makes you feel amazing, for example, without identifying, honestly and with gentleness, your breast shape.

"I try to give people the word they need not just to find what they want, but to also think about their bodies in a way that is hopefully less judgmental and more neutral, because I think they get so many judgmental messages already, especially related to our underwear," Harrington said. "I just think that having maybe one small space or one area where you do not feel you need to judge yourself can be important and useful."

Her approach to lingerie is a welcome tonic in a culture that frequently embeds shame and heavy-handed eroticism around women and femme bodies. Harrington points to how Americans specifically eschew unlined bras when compared to other cultures, opting for padded styles because there is "so much shame attached to the bosom and nipples" (shit, just ask Janet Jackson). And as Harrington told Bustle last year, she can't use Google Adsense, a tool that lets publishers serve automatic advertisements, on her site because Google has labeled The Lingerie Addict as "adult content."
This last fact reinforces the very thing Harrington is pushing against: that intimate apparel—in all its little pleasures and thrills—is meant primarily to stimulate an audience, and not serve the person wearing it.
"I think the focus has to be on wearing things that make you feel most like yourself. For some people that's going to be a T-shirt bra. And for some folks that's going to be a bralette. And for some folks that's going to be a caftan, or a robe, or yoga pants," she said. "It can vary, but what matters is that whatever you're wearing is what's right for you and not dependent on what other people told you you should wear, whether that other person is a partner, or an expert, or a trend report."

It would be tempting to frame finding the right undergarments as "empowering"—and in many ways, particularly for women who have, more frequently than not, encountered shame when assessing or dressing their bodies, it can be. But pleasure needn't be revolutionary to be useful. Here, Harrington's book serves as a stand-in for what seems to be an overarching ethos in her work: the details—in their simplicity, in their grace, matter.
And they matter because they show you something about yourself, but also—more broadly—about the place and time you're living in.

"[Intimate apparel] is an expression of a society's culture and values and identity," Harrington said.

"It's fascinating to me if you visit a lingerie store in France or the lingerie section of a department store in France, you get a very different sense of what a French woman is like, or what French culture is like, or what French people's relationship to women's bodies is like, versus what you're going to get if you visit an American lingerie store," she said.
"Even if you try to obscure it through text or what have you, the clothes will tell you the truth."
I think about how I bookend my days now, each day starting and ending my hands clasping and unclasping a hook, or stepping into a pair of bright, printed briefs. I've subbed out those ill-fitting bras for new ones, my current favorite being a Paris green, unlined Fenty x Savage fishnet and lace bra.
Adjusting a strap in the stillness of predawn, I find myself assessing my body in a way that is generous and kind—that quiet, small moment letting me collect some sweetness for myself.