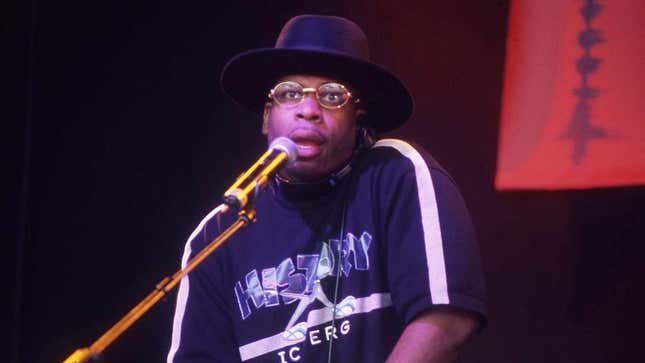 Although Run-DMC has long since ended, we are still learning new things about some of its legendary members, most notably Jam Master Jay, who was murdered more than two decades ago in 2002.
The Top 5 Rappers Of All Time According To Stephen A. Smith
On Tuesday, Jay Bryant, 49, became the third man charged with murdering the iconic DJ of the immensely-popular hip-hop group.
According to The New York Times, Bryant was already awaiting trial on a separate drug-related incident. But, in the case of Jam Master Jay's fatal shooting, the 49-year-old was charged with murder while engaged in narcotics trafficking.
Three years ago, Ronald Washington and Karl Jordan Jr. were also charged for the October 2002 murder of Jam Master Jay, who was born Jason Mizell.
Just like Bryant, Washington and Jordan were charged with murder while engaged in narcotics trafficking, according to the United States Attorney's Office.
Federal prosecutors are accusing the suspects of entering Jam Master Jay's studio in Jamaica, Queens, and fatally shooting Jay over a drug-related dispute. Jay's nephew, Rodney Jones, who was also present at the shooting, was shot in the leg.
According to the United States Attorney's Office, the motive for Jay's murder was his acquisition of nearly 10 kilos of cocaine from a supplier in the Midwest. It was meant to be sold in Maryland by the suspects, but Jay let them know that he did not want to be involved in the distribution of the drugs, which led to his murder.
He was 37-years-old when he was fatally shot.
The trial for Jordan and Washington is set to begin in January 2024, after a federal judge dismissed their motion to have the charges dropped.
We haven't heard any word from Run and DMC, the other members of the legendary hip-hop group, since a third suspect was charged in the murder of their DJ.
Earlier this year, Darryl "DMC" McDaniels, shared in an interview with Rock the Bells that "Run-DMC is over" and revealed that they plan on doing one final show in April at the iconic Madison Square Garden
That never happened and there has been no announcement since of a documentary that is set to release soon.