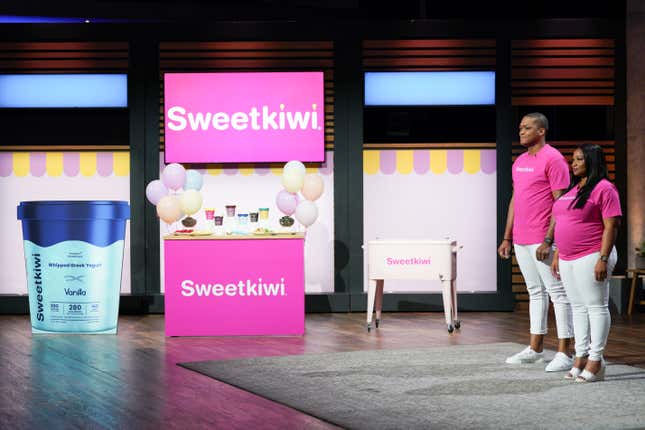 This story is part of our new Start. Build. Grow. series, a celebration of August's Black Business Month.

When Ehime Eigbe was diagnosed with fibroids at age 22, she knew she needed to make some changes to her diet, including cutting back on sugar. But rather than ignore her sweet tooth altogether, she went to work in her kitchen to create something that was both good and and good for you. And the result was Sweetkiwi, her frozen whipped Greek yogurt brand. The low-sugar, low-calorie sweet treat is packed with protein, probiotics, fiber, and immune-boosting superfoods to support heart and gut health and comes in six different flavors.

Comedian London Hughes Talks New Book, Parents Watching Her Very Sexual Comedy, & Beyoncé
Sweetkiwi is already available at some Walmart, Whole Foods, Kroger and other mass market retail locations. And the brand is on track to secure $1.2 million in sales by the end of the year. But Eigbe says her husband and business partner, Michael encouraged her to take her pitch to Shark Tank in hopes of securing advice and an investment.
On the March 10 episode, the Eigbes went into the tank seeking a $250,000 investment for a 5 percent stake in her company. And after all of the sharks, including the not-so-wonderful Kevin O'Leary (aka Mr. Wonderful), backed out, they walked away with a deal from Robert Herjavec. After just a little back and forth, Herjavec and the Eigbes agreed that his $250,000 investment afforded him a 16 percent stake in the company.

Eigbe told us that her time in the tank was "nerve racking." Luckily, none of those nerves were evident. And when it was time to make her case, she gave a flawless presentation.
"I had practiced my pitch a lot, but in those moments, you're reminded how much you know your business - especially since I built mine from the ground up. As soon as I got in front of them, I was just calm," Eigbe told The Root. "It was sort of like an out-of-body moment. I didn't make any mistakes. I knew all of the numbers and was just really confident."
At the end of the day, Ehime Eigbe is proud of staying afloat in the Shark Tank, and looks forward to seeing how Herjavec's influence can help take her business to the next level.
"It was a true testament to how hard we work, how much we know our business and how much we've put into it," Eigbe said. "It was a great experience for us. And for me, I went in feeling like I wanted someone specific, and in the end, I got what I needed to, which was the most important thing."