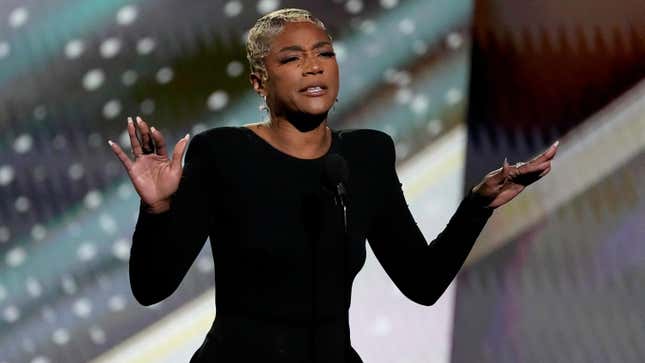 Comedians Tiffany Haddish and Aries Spears are facing yet another lawsuit— but this time to the tune of $1 million. The plantiff, Tirzah Morris, is suing the pair for defamation of character.

Small Town Horror Story: The Vietnam Veteran Who Refused To Leave A Man Behind
The legal filing comes nearly one year after Morris' adult children tried to sue Haddish and Spears for allegedly grooming them when they were minors to "perform in, film, record, publish, and distribute sexually inappropriate" comedic material.
The case was dismissed back in September, with Haddish and Spears vehemently denying the allegations. "Plaintiff's mother, Trizah Morris, has been trying to assert these bogus claims against Ms. Haddish for several years," Haddish's lawyer had said.
"Every attorney who has initially taken on her case — and there were several — ultimately dropped the matter once it became clear that the claims were meritless and Ms. Haddish would not be shaken down."
Court documents obtained by RadarOnline reveal that Morris claims Haddish and Spears slandered her name when they accused her of trying to extort them. The documents also state that Morris and Haddish were friends from 2011-2020, and they became so close that Morris' children once called Haddish "Auntie Tiff."

The remarks have also allegedly caused Morris to suffer from anxiety. The documents also claim that Morris allegedly contacted attorneys for both Haddish and Spears' attorneys earlier this year and requested a statement be released that explained there was no extortion attempt.
However, Haddish allegedly called Morris personally and attempted to resolve the situation. "The media isn't talking about it right now," Haddish allegedly told Morris on the phone. "I have four movies coming out this year and I am going to be doing a lot of press. If it comes up, I'll be sure to mention it."
Morris is claiming the statements made by both Haddish and Spears—which question her morals and integrity—have also caused her great financial difficulty.