Dear beautiful black Queens,
By any measure, 2018 was undeniably your year.
Despite everything you face in this country—from the perilous minefield of race and gender that you tiptoe across on a daily basis, to your beauty, your value, and your health under constant siege from those entrusted to protect you, to the crippling realization that "doing everything right may never be enough"—you flourish.
You repel the lesions from misogynoir. You demand agency unapologetically. You spread the gospel of black womanhood without stipulations or fear.
And in the face of erasure, you bore #BlackGirlMagic.
From the onset of 2018, you dug deep and unleashed exactly that upon a world that's pledged to destroy you. In January, you made history when Oprah—in recognition of her outstanding contributions to the world of entertainment—became the first black woman to win the prestigious Cecil B. DeMille Award at the 75th annual Golden Globes. Then you followed that up by launching voter registration drives that propelled five black women into Congress—including Massachusetts Rep.-elect Ayanna Pressley—as well as a swath of first-ever state and local level victories including New York Attorney General Tish James, Illinois Lt. Gov. Juliana Stratton, and all 19 black women who ran for judge in Houston and won.
Then once winter bid us adieu, Mary J. Blige shed the vestiges of her tumultuous divorce and blossomed into the first-ever double nominee for Best Song and Best Supporting Actress in the history of the Academy Awards. Which served as the perfect prelude to #Beychella, in which our lord and master Beyoncé snatched every last one of our edges while headlining Coachella—another long overdue first for black women.
We also bore witness to Meghan Markle's literal ascension into black royalty—complete with a black bishop and matching black choir—when she exchanged vows at St. George's Chapel at Windsor Castle with her betrothed, Prince Harry. While the summer welcomed legendary beautician Pat McGrath's eponymous cosmetics company into the elusive billionaire's club—only for makeup mogul-in-the-making Supa Cent to demonstrate the potential to one day replicate that success when her own collection, the Crayon Case, raked in a jaw-dropping $1 million in sales in a mere 90 minutes.
G/O Media may get a commission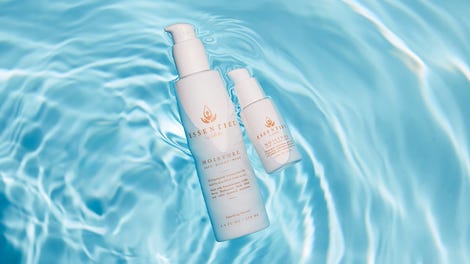 20% off
Essentiel by Adele
And who can forget how you graced magazine cover after cover—from Rihanna on British Vogue, to Traces Ellis Ross on Elle, to Lupita Nyong'o on Porter—translating into 48.4 percent of the covers of the nine major fashion mags in the United States featuring women of color—a record-breaking year for doing so.
Then shortly after celebrated TV producer Ryan Murphy announced his blockbuster $300 million deal with Netflix, you dropped the mic at Elle's Women in Hollywood celebration when Shonda Rhimes declared, "Men brag about everything, even things that aren't things. […] I am the highest-paid showrunner in television. […] We are powerful women and when we say we have power, what we are really saying is that we deserve to have power."
Amen.

Then you destroyed sales records with the release of our forever first lady's captivating memoir, Becoming, in November. Shortly before that you were finally given your due when Janet Jackson's long-awaited Rock & Roll Hall of Fame induction was officially announced.
But your exploits didn't stop there, as gymnast Simone Biles spent her year deviating between collecting her fifth national all-around title—the first woman to do so—being named ESPN's Most Dominant Athlete of 2018, and cackling in the face of gravity by doing things like this—all with a kidney stone.
But for all your achievements and accomplishments this year, you weren't without your share of adversity too.
We watched in horror as deliberately understaffed polls, discarded provisional ballots, and inoperable voting machines spelled Stacey Abrams' doom—cheating you out of your bid to become the first black woman to serve as governor in the United States. And because your garb and your dignity are far too often perceived as a threat to our sovereignty, Serena Williams was lambasted by white media for what they misconstrued as gaudy attire and poor sportsmanship.
Then for all its beauty and splendor, even Black Panther was tainted by the revelation that writer Roxane Gay—one of the architects of its ethos—didn't even receive an invite to its premiere.
"My feelings are real hurt that I didn't get an invite to the Black Panther premiere," she tweeted in response to the snub. "I mean goddamn Marvel. Goddamn."

Not to mention Cyntoia Brown remains detained, Maxine Waters was the intended target of a series of mailed homemade bombs, and the losses of Aretha, Ntozake, Winnie, and Nia still reverberate throughout the bowels of our community.
But adversity also breeds character, and in some instances, grace, as you proved when writer and theologian Candice Benbow mended a fractured relationship with pound cake and aplomb.

Or when former adviser to Barack Obama Valerie Jarrett opted to spare Roseanne Barr's life instead of eviscerating her after she dismissed you as a byproduct of the "Muslim brotherhood" and The Planet of the Apes.
"I think we have to turn it into a teaching moment," Jarrett divulged during MSNBC's Everyday Racism town hall.
But your kindness should never be mistaken for weakness, as you proved when April Ryan gave our Commander-in-Tweet the business for calling her a "loser." Or when should-be-Governor Stacey Abrams refused to concede defeat to voter suppression extraordinaire Brian Kemp. Or when right-wing provocateur Tami Lauren had to have Little Miss Flint's 11-year-old foot surgically removed from her ass.
But in the year that was, for all its twists and turns, highs and lows, and innumerable obstacles and triumphs, you never wavered. You persevered and pioneered—collecting accolades while spearheading progress—all while bearing our seeds, enduring a world full of selfish transgressions, and defending our pride and safety from those who dare oppose our union.

You are strength, you are compassion. You are unparalleled beauty, you are the soil from which we all bloom.
You are black women.
And for that, we celebrate you.