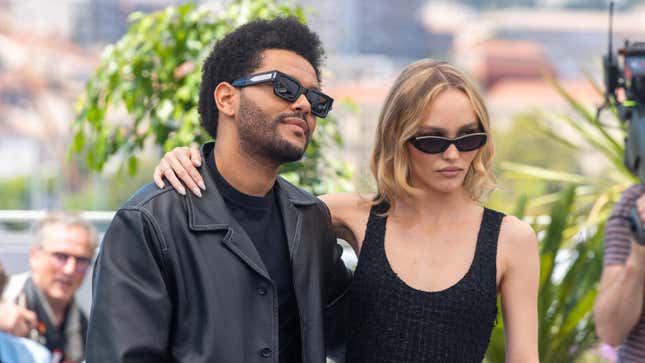 The Weeknd is at the center of a media firestorm following the second episode of the HBO music show, The Idol. The last ten minutes of it featured a creepy-ass sex scene in which the "Starboy" singer (who portrays club owner Tedros Tedros) sits in a chair and directs fallen pop star Jocelyn (portrayed by actress Lily-Rose Depp) to make sexy poses on a bed.
Is That Black Enough for You?!? Is Our TV Pick This Week
Not only is it cringe-worthy AF, but it's also just downright gross. The Weeknd, born Abel Tesfaye, recites fictional dialogue that is riddled with pornographic phrases ("Let me see those titties") and perverted grunting. In a new interview with GQ, the "Blinding Lights" crooner stated that if viewers were bothered, that's the whole point.
"No. There's nothing sexy about it," Tesfaye said. He also explains how the infamous sex scene was inspired by the 1992 film Basic Instinct, starring Sharon Stone. In The Idol, he and Depp watch the movie together before getting intimate. Tesfaye explained:

"When we use Basic Instinct as a reference, we're using [director Paul ] Verhoeven. Verhoeven is the king of '90s satire thriller — yes, there's moments of 'sexy' in his films but there are other moments that are very cheesy and hilarious. How ever you're feeling watching that scene, whether it's discomfort, or you feel gross, or you feel embarrassed for the characters. It's all those emotions adding up to: This guy is in way over his head, this situation is one where he is not supposed to be here."

He continued by saying that "with this show, we love to play with the emotions. We're puppet-mastering your feelings through the show...It's never a consistent tone, and that's on purpose. No matter how dark a scene is, you can find the comedy in it." Despite The Idol getting dragged on social media for how ridiculous it is, the star doubled down on the notion that all press is good press.
"[The Idol has] definitely shaken up the culture for sure. We knew we were making something dark and controversial but true to what we want to say," Tesfaye remarked. He also acknowledged the eccentricities of his character, Tedros Tedros. "He's definitely a challenge. He's despicable, a psychopath — why sugarcoat it?
"But he's somehow useful to [Jocelyn] and it's unfortunate and we hate to see it."