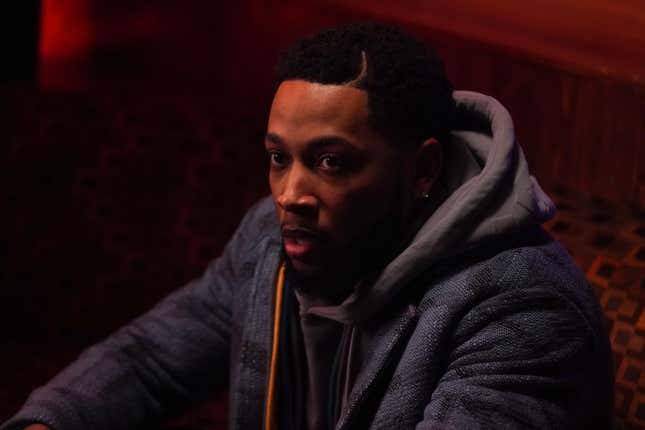 Editor's Note: This interview was conducted before the SAG-AFTRA strike began on July 14.
Comedian London Hughes Talks New Book, Parents Watching Her Very Sexual Comedy, & Beyoncé
Season Six of the popular Showtime series The Chi is officially back, streaming on Paramount+ on Friday before its broader release on Aug. 6. But before we head back to the Windy City, series star Jacob Latimore has just one warning for us: "Everything is at stake."

The young actor, who's been playing the sneaker-loving, women-addicted Emmet since the very beginning, tells The Root that this season will see his character continue to evolve and grow into a young man. And while the juggling act between fatherhood and his personal relationships seem to be going relatively well for now, Latimore teased that there may be some serious complications down the road when it comes Emmet's professional life.
"We're definitely seeing what it's like for a business that may look like it's booming on the outside, but then there are so many issues on the inside, behind closed doors," he said. "And how that affects everything in his life. When you do business wrong, you messing up your relationships, your relationship with time, everything is at stake. The stakes are higher this season."
He continued: "With Emmett and The Chi, it's just been like a real sort of, reflection of the everyday of a young man who's growing up in the inner city. He's trying to stay positive, he's trying to do something that isn't illegal. He knows his real edge, he knows he's not a street guy. He's not this or that, he loves shoes, he loves women. He's addicted to women. But he's learning self-control, he's guiding himself through life even with the absence of his father. He's young and now rekindling this relationship as he gets older."
High stakes or not though, the opportunity to portray a story like Emmet's is one that the House Party actor shared he's proud of, as it's been a grounding experience that's allowed him to learn more about himself—especially as a young actor still on his grind in Hollywood.
"Im just most proud of how I've been able to learn through the character a little bit. I feel like a part of me is Emmett, then a lot of me is not as well," he said. "But I'm able to step into someone else's shoes and get maybe just a fragment of how they may feel or what they got to go through in these types of situations. So, I'm just happy I can sort of be a reflection and have that impact on our fans."
"It's amazing, I'm constantly learning. I feel like the show, for me, has been exciting to jump back into every season because I constantly look for a challenge. Because you know people will leave a show, you know, 'I've done enough seasons.' But for me, I feel I'm still really young. I think the key to my success in my career has been longevity since I was a kid. Now I'm in a totally new phase and I want to continue to build that for myself," he concluded.
The Chi returns Friday for Paramount+ subscribers and premieres Sunday, Aug. 6 on Showtime.