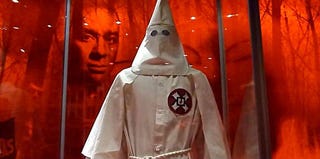 Mother Jones reports that 58-year-old "Ms. Ruth," who comes from five generations of Ku Klux Klan members, sews hoods and robes for the group seven days a week, and blesses each one when it's done. She lives in the Deep South.
A red satin outfit for an Exalted Cyclops, the head of a local chapter, costs about $140. She uses the earnings to help care for her 40-year-old quadriplegic daughter, "Lilbit," who was injured in a car accident 10 years ago.
Read more at Mother Jones.