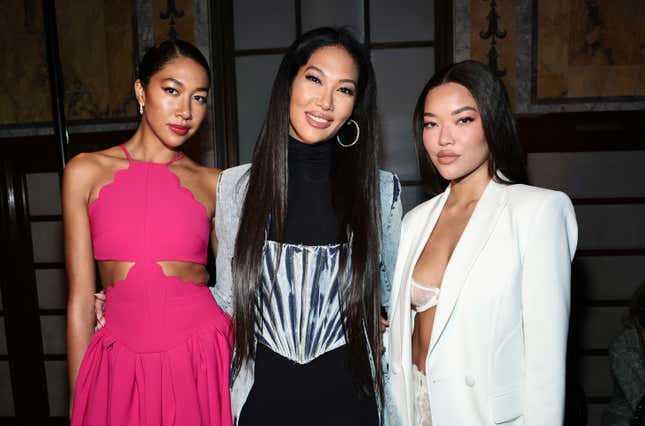 Kimora Lee Simmons is fed up with the lies.

According to Complex, after her 23-year-old daughter, Ming Lee, took to Instagram on Sunday to wish a Happy Father's Day to her mother, Kimora released a lengthy, emotional video where she revealed how Russell Simmons has cut off his two daughters.
FX on Hulu's Tupac Docuseries, Dear Mama, Is Our TV Pick This Week
"Don't attack my kids, don't have anything to say about what's goes on in this house," she said. "Because if you want to, we can all do that. Like I said, I like receipts. I have receipts. I've been collecting them, I've been baking a cake. So if you want it, just let me know."
Per People, on Monday, the music executive posted an Instagram Story that was clearly meant for his ex. "Stop telling fathers they should have fought harder to see their children & start asking mothers why he had to fight at all," the message reads.
Not wanting to let this go unchallenged, Kimora responded with her own Instagram Story, writing, "I'm so sorry to have to do this," she wrote. "But this man has been threatening my kids' lives. I'm hearing so much more now. We won't be bullied, threatened or afraid."
"Leave my kids alone," she continued. "This narrative of attacking the only caregiver, the only parent in the home with the kids, the mom, AND the kids for one's own shortcomings and embarrassments is dead. Dead. Dead."
Kimora has clearly been holding onto some feelings about her ex for a while and is not here for him playing the victim.
She added: "The same abusive ish. This is how you [maneuver] with the women all around you. Your threats and lies and intimidation [maneuvers] and tactics are sad. Stop it please. Your own flesh and blood? Enough is enough."
Their 20-year-old daughter, Aoki Lee, stepped into the fray to defend her mother by posting a video of a FaceTime with her father, where he appears to yell at her. In the capiton, she wrote, "This is not someone who will accept help. This is just one screen recording sorry I don't always remember to press 'record' when he calls my friends, my boyfriend, anyone, to get a chance to threaten and curse and go crazy."
Per Complex, she also wrote in a now-deleted Instagram post, "He has threatened and bullied my sister, my grandma, he has harassed my grandma in the middle of the night in poor health, send a man to my sisters apartment at 2am to scare her. He lashes out at ANYONE who does not say 'oh Russell everything is fine'. Well it's not fine. If 'I never get a fashion job again' like he threatens, I'll be a lawyer I guess and work in criminal Justice. Sure I love my job but if he takes it away from me I won't die. You don't threaten my sister and grandma and mother and say 'who's gonna believe you I'm Russell Simmons nobody thinks I'm crazy' well he is."
On her Instagram Stories she added: "I've had enough. I know I may lose jobs or whatever I don't even know, I was always a daddy's girl you can see that in any picture. But he's been awful to me for years and that's just the truth. I do my best. I did not side with anyone over any legal business, he's been directly harmful TO ME. He tries to get at my mom by hurting US. Since I was 16-17 he literally forced me into needing therapy but said sorry he doesn't have 100$ a month to pay for a session. Some of us do think he's mentally ill or experiencing something like dementia, he really acts like he hates and does not know his children frequently. Prior to his media issues he was a really the best dad ever and a great co parent. He and my mom were best friends. We all defended him against anything, and then he suddenly turned on ANYONE who will let him lash out. It's a really just terrifying change to watch."
She also posted screenshots of text messages between her and her father where she says that he texts her boyfriend and friends when she tries to "take some space." When he claims that Kimora "has stolen my money and the love of my children," Aoki responds with "I'll never speak to you until you DIE. Don't ever say that again."
In the aftermath of all the drama, on Monday night, Russell took to Instagram to apologize to his daughters. Alongside a picture of Ming and Aoki, he wrote that he's "deeply sorry" and "there are no conditions."
"God is testing you a little bit, it's ok, be strong. . . they are called growing pains," he wrote. "As you know, we grow through adversity and struggle . . . you read my books and heard me preach your whole childhood . . . reach back to old lessons and remember to remember 'smile and breathe' [heart emoji] 'smile and breathe.'"
"You are the watchers of this world . . . so let go . . . be at ease . . . God is driving and he is working on you," he continued. "DEEPLY sorry for being frustrated and yelling . . . but know this . . . there are no conditions . . . for sure i love you guys more than i love myself."
As you would expect, Black Twitter had all kinds of opinions on Russell's behavior.
Anyone with first-hand experience with divorce will tell you the No. 1 rule is to not put the kids in the middle. It does not matter how old those kids are, do not put them in a situation where they have to choose sides because that never works out well for anyone. When you're a problematic man who's been accused of sexual assault by multiple women and moved from the United States to Bali to allegedly avoid any legal consequences, you definitely should not be forcing your daughters to choose between you and their mother. It's become abundantly clear that Russell Simmons does not know how to treat women, so it's no surprise that his issues extend to his ex-wife and their daughters. It's just a shame that his children have been put in a position where they had to make family business public just to defend their mother.