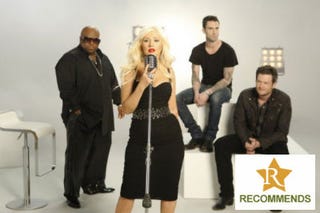 NBC has added a new twist to everyone's favorite reality-show competition. In The Voice, a vocal competition similar to American Idol, contestants are hidden from the judges to ensure that they are evaluated only on their talent.
Premiering on Tuesday at 9 p.m., the show will make contestants face Christina Aguilera, Cee Lo Green, Maroon 5's Adam Levine and Blake Shelton in order to win a recording contract and $100,000. With Green already promising to be extra tough on all the candidates, this just might give American Idol a run for its money.
Previous recommendation: StyleLikeU.
Got ideas for The Root Recommends? Send them to recommendations@theroot.com.
Like The Root on Facebook. Follow us on Twitter.