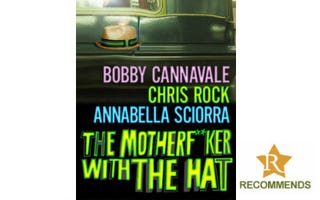 Chris Rock is back and better than ever. On April 11 he will be making his Broadway debut in The Motherf**ker With the Hat, a play about a couple that have been in love since the eighth grade, yet can't seem to get it together.
Rock plays the sponsor of one of the lovebirds after she joins Alcoholics Anonymous to kick her drinking habit to the curb. In a departure from his usual comedic roles, Rock will impress audiences with his new dramatic and artistic style. The production also stars Bobby Cannavale, Elizabeth Rodriquez, Annabella Sciorra and Yul Vázquez and will be showing at the Gerald Schoenfeld Theatre in New York City until the end of June. For tickets and more information, visit Broadway.com.
Previous recommendation: 'Body of Proof.'
Got ideas for The Root Recommends? Send them to recommendations@theroot.com.
Like The Root on Facebook. Follow us on Twitter.