Have you ever been singing along to a song and then suddenly realize it has lyrics that would get you dragged if you said them aloud on Twitter?
I'm talking about songs that could be classified as rape-culture anthems, or that advocate violence against women or sex with underage girls, or all of the above. Believe me, there are tons of them.
I was reminded of this the other day when resident Twitter music scholar Naima Cochrane asked people to name their favorite problematic songs. You know it's wrong when you listen to them, but you just can't let them go. I took her question to my co-workers at The Root, and we spent a good part of Thursday morning discussing which songs we realized have deplorable lyrics.
Here is a small sampling of what we came up with:
Bell Biv DeVoe, "Do Me Baby"
This song includes lyrics that hint at its performers having sex with underage girls backstage after one of their shows. I never even thought about that lyric until our editor-in-chief, Danielle Belton (or DB, as we on the staff affectionately call her), brought it up. Ew. Gross.
G/O Media may get a commission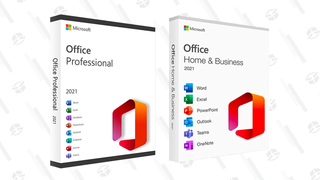 89% off
Microsoft Office Professional 2021 Lifetime License
Bell Biv DeVoe, "Poison"
DB also reminded us that this song is a little misogynistic in that it suggests any woman with a big butt and a smile is someone you shouldn't trust.
Rick James, "17"
Contributing Editor Angela Bronner Helm dropped this one on us. Rick James' grown ass wrote an entire song about seducing a girl who was, in his words, "almost jailbait!"
N.W.A, "She Swallowed It"
Very Smart Brothas Senior Editor Panama Jackson and I agreed that N.W.A's entire Niggaz4Life album (also known as Efil4zaggin) could go on this list because there are so many songs on it with terrible lyrics. And by "terrible," I mean the type that describe murdering women, raping women and having sex with underage girls.
On "She Swallowed It," MC Ren describes being at a drive-in movie with a date who won't let him have sex. In the car next to them, five men are engaging in sex with one woman—and Ren decides he wants in on the action. When he gets in the car, he finds out that the "woman" in question is actually the preacher's 14-year-old daughter. Ren describes her as a "ho" who "sucks dick like a specialized pro."
"I told the bitch to do it quick," Ren raps. "You little ho, hurry up and suck my dick."
Yeah.
Biggie Featuring Eminem, "Dead Wrong"
I am not even going to quote any of the lyrics of this horrifying yet catchy little ditty; I'll let you Google them for yourself, but good grief. I read them online in preparation for this post, and they are bad. Like, really bad. Thanks, Angela. I can't unhear this now.
Big Daddy Kane, "I Get the Job Done"
This song, which was produced by Teddy Riley during his new jack swing championship run, is one of my favorite Big Daddy Kane songs. Michael Harriot, my fellow staff writer and columnist, reminded me that in this song, Kane hints that he is willing to get with underage girls when he says, "I'll take 'em 8 to 80, dumb, crippled and crazy."
Yikes. Eight is a little young, Kane.
Lil Jon Featuring Usher and Ludacris, "Lovers and Friends"
I love this song a whole lot, but it doesn't escape my attention that in the beginning, Usher makes the rapey assertion that once the girl gets inside his car, she's not allowed to change her mind.
Lil Jon & The East Side Boyz, "Get Low"
Not only is Lil Jon on this song being extra rude and disrespectful to strippers in the club, but the chorus is horrible. I didn't realize how horrible until one of my homeboys loudly, slowly and purposefully enunciated every word Lil Jon was saying so I could hear the lyrics I was bopping to.
I haven't "bopped" to it since, but I haven't removed it from my playlist, either.
DMX, "It's All Good"
This song fucking bangs, but as our copy chief, Teresa Ridley, said, the lyrics in their entirety are terrible. X is basically rapping about manipulating women, putting them on the track and treating them badly, all while using them for sex.
But it has that beat from Taana Gardner's "Heartbeat," the same beat that De La used for "Buddy," and that beat is fucking irresistible to me.
I'm still bopping to this DMX song.
As I said earlier, we could go on and on, but I have other posts to write.

I'm curious, though: What's on your problematic playlist? Let me know in the comments.