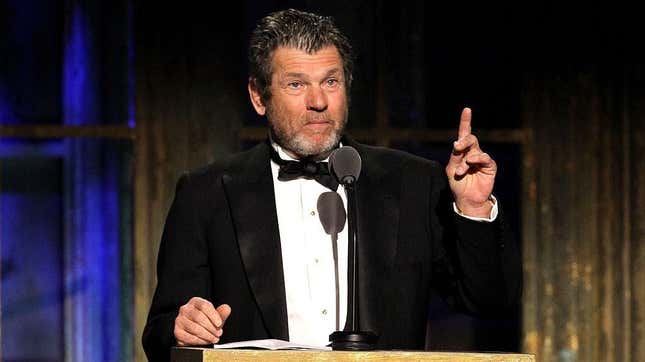 The more things change, the more they stay the same. Despite Black musicians making incredible leaps and bounds over the past century, reaching the point where they've become some of the most respected, celebrated, famous, talented, and intellectual artists in the world, there remains a prejudice against those musicians.
My Hip-Hop Story: Sway Calloway Felt Like a Superhero Living Through The Genre & Culture's Early Years
If you haven't heard, a rich white man made racist and sexist comments toward Black and female musicians over the weekend. Normally, that wouldn't be a huge story considering that happens almost every other week, but this one stood out because the co-founder of Rolling Stone and the Rock & Roll Hall of Fame is the one who made them.
Over the weekend in an interview with the New York Times, Jann Wenner discussed his soon-to-be-released book, "The Masters," which includes interviews with legendary musicians Bono, Burce Springsteen, Pete Townshend, Mick Jagger, John Lennon, Bob Dylan, and Jerry Garcia.
Notice something about that group of artists? They are all old white men. This isn't shocking considering Wenner is an old white man himself, but it was his response to a question on why he didn't speak to any Black or female artists that has me fuming.
Among other things, he said, "It's not that they're inarticulate, although, go have a deep conversation with Grace Slick or Janis Joplin. Please, be my guest. You know, Joni (Mitchell) was not a philosopher of rock 'n' roll. She didn't, in my mind, meet that test."
He later continued, "Of Black artists — you know, Stevie Wonder, genius, right? I suppose when you use a word as broad as 'masters,' the fault is using that word. Maybe Marvin Gaye, or Curtis Mayfield? I mean, they just didn't articulate at that level."
Read more below:
What in the actual hell?
This is frustrating in many ways. It reflects the unconscious bias that is in the minds of some of the most powerful white people in the country today. Wonder why there aren't more Black coaches in the NFL? NFL owners "naturally" gravitate toward the young white coach who they can "relate" to.
Wonder why Black actors and filmmakers are snubbed at the Oscars? Members of the academy just naturally gravitate toward movies that feature white actors. It's not an intentional thing, it just reflects the bias that has developed inside them over the years.
This is why Wenner did not even think twice about interviewing a Black or female artist. It wasn't important to him. It didn't come across his mind.
But in this case, he made it clear that his bias was not just unconscious. He acknowledged legendary Black and female artists who were worthy of being interviewed and discussed in his book, and he still went out of his way to say that they couldn't "articulate at that level."
Yes, I know he's apologized since, but it's too little too late. He already showed his whole ass with this comment. He made it clear that he does not respect the intellect of these artists, despite their deep knowledge of music and the emotion it can evoke.
This is why Black people and women have so desperately been calling for diversity in the most powerful positions in music, sports, politics, tech, etc. We get people like this. Old white men who don't give one lick about the experience of others and as a result, these groups often get lowballed or left out in important spaces.
Thankfully, Wenner was removed from leadership at the Rock & Roll Hall of Fame, but until these biased individuals are removed from their powerful posts, the pattern of discrimination and exclusion will continue.