A long time ago (2016), in a land similar to our own but very different (pre-Trump America), comedy was about the absurd. Presidents were fun to make fun of because they were confined by the stature of the office. It was fun to imagine how they would be if they were a more extreme version of their staid selves. It's why Obama had an "Anger translator" on Key & Peele. It's why George Bush Sr. was mocked regularly for his malapropisms (as was his son, Dubya). It's why comics portrayed Bill Clinton as being all libido and lustful, hungry ego, jogging to McDonald's. These were exaggerations, a play on who these men were—and who they couldn't fully be in the public eye.
But when it comes to Trump, how do you exaggerate on a clear, anxiety-inducing exaggeration? Watching a rally with him is already a mirror darkly into a world of the absurd. Up is down. Left is right. And if he says the sky is blue, you peak outside just to make sure.

Still, in these increasingly unfunny times of migrant children in cages, separated from their parents at the border; massacres at supermarkets and houses of worship; and demagoguery of the press and other American institutions—laughter can be good medicine. Which is why I (along with our social media editor Corey Townsend) went to the Ms. Foundation for Women's 23rd annual Comedy Night at Carolines on Broadway in New York City Tuesday, Oct. 30.
Presented by Carolines' own Caroline Hirsch, women's rights activist Gloria Steinem, and Ms. Foundation's president and CEO Teresa Younger, the event was the first of two I went to this week meant to honor (and entertain) women. (The latter was Women's Media Center's Women's Media Awards on Thursday at Capitale in New York City, where Women's Media Center co-founder Steinem was also present. It was hosted by past honoree Soledad O'Brien, with Rep. Maxine Waters as the keynote speaker.)
We at The Root try to find our laughs where we can get them to keep from crying, so it was nice to watch a gaggle of funny ladies tell edgy jokes to a mixed crowd of women young, and young-at-heart. As Younger promised when she opened the show, quipping, "It's so hard for me to be a white man in America," the Ms. Foundation leader said, "If you're offended by this, you'll move past it."
G/O Media may get a commission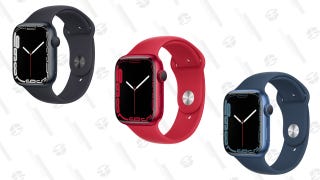 Up To $45 Off
Apple Watch Series 7
And it was true. The jokes went so quickly, furiously and funny, even the ones where I managed to clutch a pearl or two were fleeting, like when SNL alum Sasheer Zamata joked about her mother instructing her to "cover up" as a child out of respect for her father in case for some (bizarre) reason his pre-pubescent daughter enticed him, and she dead-panned an Eve's Bayou reminiscent quip about how she'd spent her childhood trying to woo him to no avail.
Yee gawd.
I still laughed though.
"These are shitty times," said Younger, which made me think of my job editing a staff who writes daily about these shitty times, later adding that Tuesday night's event was all about being together and creating community through some fun, semi-offensive but very good jokes.
Comic Judy Gold managed to date herself (and myself when I laughed) after she named dropped Mary Jo Buttafuoco in a bit. Comedian Chloe A. Hilliard made everyone laugh relaying her dating desire for "a sturdy white man from the middle of the country with no gluten allergies." Daily Show alum Michelle Wolf joked about the so-called threat of men creating sex robots so they could abandon having sex with actual women completely. ("You're greatly overestimating how much we'd like to have sex with you," she said.) Actress, comic and disability advocate Maysoon Zayid made everyone laugh and think with her jokes about having cerebral palsy, challenging how people view people with disabilities and sex.
But my favorite, rising star Zamata, flipped the president's "grab 'em by the pussy" remarks by chastising women who've never looked at their own vulvas.
"Get those hands in those pussies," she quipped. "It's 2018! Grab your own pussy. Men touch their dicks all the time ... Could you imagine owning a house and you never see the basement ... but you'll let other people go down there?Sometimes strangers!"
While the jokes were furious and funny, this was a comedy show with a purpose. Younger, in her opening remarks, mentioned the midterms—because they're both important and inescapable—and encouraged the women (and men) in the audience to get out and vote, drag a friend to vote, make phone calls encouraging people to vote and literally, drive some folks to the polls if you have to.

"Our lives depend on how we are making steps," she said.
And Steinem also touched on the overall shittiness theme in her remarks after Younger, adding that, "In the middle of this atmosphere, everything everyone is going through might not be funny at this time.
"It's so important that we support each other," she added. "Laughter is not just a small thing ... You can make people afraid, but you can't compel someone to laugh ... How important it is is a proof of freedom. Never go any place where they won't let you laugh.
"Tonight, we are free."