Before Gregory Alan Bush opened fire at a Kroger supermarket in the Louisville, Ky., suburb of Jeffersontown and killed two black people on Wednesday, he tried unsuccessfully to enter a predominantly black church in the same area, police said.
Now as federal investigators prepare to investigate the shooting, both the mayor and the police chief of Jefferstown have come out to denounce the killings as a hate crime.
The Louisville Courier-Journal reports that Jeffersontown Police Chief Seth Rogers stood before the congregation at First Baptist Church on Sunday and said that while some people don't want to acknowledge "the elephant in the room," the fact that the shooting was motivated by racism needed to be addressed as a part of the larger dialogue.
Rogers noted that before he was captured, the alleged shooter told one man "whites don't shoot whites."
G/O Media may get a commission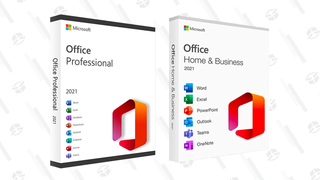 89% off
Microsoft Office Professional 2021 Lifetime License
"I won't stand here and pretend that none of us know what could have happened if that evil man had gotten in the doors of this church," he said, referencing surveillance video that showed Bush attempting to enter the church prior to heading to the Kroger.
Jeffersontown Mayor Bill Dieruf also spoke out against the shooting and argued that the city should not be defined by one person's actions.
I want you all to realize that yes, we have a race problem. Yes, it is real," Dieruf said. "It's up to us to solve the problem of racism."
Bush, 51, allegedly walked into the Kroger supermarket Wednesday afternoon and shot 69-year-old Maurice Stallard in the back of the head. As Stallard lay on the ground, presumably dying, Bush shot him several more times.
Bush then allegedly walked outside and shot Vickie Lee Jones, 67, several times as well, killing her.
He was captured a short time later and taken into custody alive and unharmed.
Russell Coleman, the U.S. attorney for the Western District of Kentucky, said in a statement that federal investigators are looking into the fatal shootings as "potential civil rights violations such as hate crimes," according to NPR.
Bush reportedly has a black ex-wife who said in court records that he called her a "nigger bitch."
Bush is still in custody on a $5 million bond. He faces two counts of murder and 10 counts of felony wanton endangerment.