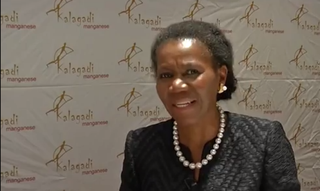 Call her the Iron Lady.
South Africa's Daphne Mashile-Nkosi was named CEO of the Year last week at the African CEO Forum in Geneva—an outstanding accomplishment for a black woman navigating the country's male-dominated mining industry, Destiny Connect reports.
According to the report, the award recognizes the CEO who is committed to and successful in promoting Africa's private sector, bolstering regional integration, and demonstrating social and environmental responsibility.
In her acceptance speech, Mashile-Hkosi, who chairs the Kalagadi Manganese company, acknowledged the significance of the award and the challenges she has faced. "The mining industry has not been an easy road, especially for a black woman, but I have persevered and succeeded in surmounting the many obstacles that have been placed in my path. Where there is no pain, there is no gain," she said, according to Mining Weekly.
"I am humbled to have won this prestigious award, for it goes far beyond the recognition of business success, [because it is] coupled with my commitment to social upliftment and environmental responsibility. It also acknowledges that an African woman can make her mark in the historically male-dominated mining industry," she said.
Kalagadi Manganese is reportedly the world's largest manganese sinter plant, Destiny Connect notes. Sintering processes mineral dust and powders for manufacturing purposes.
Read more at Destiny Connect and Mining Weekly.