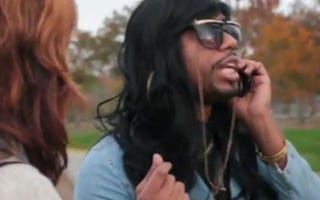 It all started as a joke, says "S—t Black Girls Say" creator Billy Sorrells. But 3 million views and countless copycats later, the actor-comedian thinks that things aren't so funny anymore.
On Dec. 12, Canadian comic Graydon Sheppard debuted his "S—t Girls Say" series on YouTube, based on his popular Twitter feed of the same name. My favorite tweet? "I was mortified."
In the video Sheppard, dressed in drag and a long, auburn wig, cycles through familiar stereotypes about women, from their forgetfulness ("Did I lock my door?") to their passive-aggressiveness ("Could you not do that, please?").
In just one month's time, Sheppard's first episode (there are now three) has been viewed nearly 10 million times on YouTube. Actress Juliette Lewis (Natural Born Killers) even gets in on the fun in two episodes.
Then came Sorrells, who, like Sheppard, wanted to make people laugh. Sorrells' video, "S—t Black Girls Say," pays homage to the original — poking fun at stereotypes that are funny because there is some truth buried beneath the punch line. What black woman hasn't, upon reading an annoying email, shouted to the universe, "DUH-lete!"
"It's not meant to be derogatory," said Sorrells in a phone interview with The Root. "It's just comedy."
Sorrells and a small production team put together "S—t Black Girls Say" in less than 48 hours; the video now has nearly 3.5 million views. Sorrells was quick to point out, however, that this isn't his shtick, so to speak. "I'm an actor and a thespian first," as he explained it.
Whereas Sheppard continues to crank out "S—t Girls Say" episodes that feature him as the ditzy "any girl" about town spouting silly female-speak, Sorrells said he's done with the "genre."
"We can't spend all of our time talking about the 'black and white' thing," said Sorrells in a nod to another iteration of the "___ says" field, Franchesca Ramsey's "S—t White Girls Say to Black Girls."
Ramsey's video didn't just strike some nerves; it demolished them, digging out oft-talked-about — though rarely publicly — micro aggressions. On their own, those tiny pinches of ignorance might not "seem racist," but taken cumulatively, they can add up to being fed up.
In what looks like a tribute to former Saturday Night Live star Ellen Cleghorne, Ramsey, in a long, blond wig, plays the same ditzy "any white girl" that Sheppard first poked fun at in his video, but with a twist. The white girl Ramsey plays spouts nothing but ignorant talking points like, "Not to be racist, but … " and "Is it, like, bad to do blackface? Is that still, like, a thing?" and "You can say the n-word but I can't? How is that OK?" All funny. All true. So far,"S—t White Girls Say to Black Girls" has gotten more than 5 million views and counting.
Appearing on Anderson Cooper's daytime talk show, Anderson, Ramsey responded to critics who say her video is just as offensive as Sheppard's, which some women have deemed misogynistic. "I don't think that talking about ignorance is racist," explained Ramsey in response to a white woman's claim that the comedian's video is, in fact, as racist as the "white girl" she skewers.
That's the tricky thing about pointing out racist speech or digging up buried micro aggression in everyday conversation. Does repeating ignorance, even for the purpose of overcoming it through laughter, bloody both sides of the punch line? Thing is, comedy and drama have always been flip sides of the same psychological coin. Laughing at one's pain — the slip of a banana peel or the racist slip of the tongue — has long been recognized as a means to an end.
"We're not saying the tweets and videos are not offensive, necessarily. We're just saying that the ways in which they may cause offense are part of what makes them interesting and socially pertinent. Because yeah, good comedy will irk some people," wrote the Onion about Sheppard's videos.
In the other videos that have sprung from the "___ says" genre, I, too — a woman, an African American —  have been forced to confront some of my own offensive mouth farts. In "S—t Girls Say to Gay Guys," the girl says insanely ignorant things like, "I know this guy, right; he's gay, too. You guys would be perfect together!" Who says stuff like that? Oh, right, a lot of us do.
"Sometimes we miss the point trying to point the finger," said Sorrells.
In the end, black girls can be just as offensive as the white girls mocked in Ramsey's video. Racism, sexism, any ism, can be perpetrated by anyone at any given time. Sure, we can laugh at the offensive "funny because it's true" moments that Ramsey and other conscious comics have underlined for us, but what happens after we close our collective laptops and the laugher stops?
Helena Andrews is a regular contributor to The Root and author of Bitch Is the New Black, a memoir in essays. Follow her on Twitter. 
Helena Andrews is a contributing editor at The Root and author of Bitch Is the New Black, a memoir in essays. Follow her on Twitter.