It's hard to believe it's been 30 years since Spike Lee's groundbreaking film, Do the Right Thing hit cinemas, but we recently got a reminder that the film many consider Lee's magnum opus is older than many of our readers (making those of us who saw it in theater feel...well, let's just say it still holds up). Of course, since this season we're looking for less conventional gift ideas than usual, the anniversary sparked—you guessed it—another gift guide!
It all started when we learned that in honor of the 30th anniversary of the beloved film, fashion retailer rue21 partnered with Spike Lee's Forty Acres and a Mule Filmworks and Defend Brooklyn to offer a limited edition Do the Right Thing collection. The 22-piece collection ranges a very reasonable $2.99 to $37.99 and features sweatshirts, tees and accessories for men and women—including beanies, a fanny pack, and even socks. And though there are unfortunately no "Love/Hate" multi-finger rings in the mix, there's a bonus: Shoppers can enter to win a 30th-anniversary edition Do the Right Thing New York City street sign, autographed by Spike Lee himself.
"We chose to work with rue21 because they offer accessible fashion with an understanding of the culture of customers they serve," Alex Wright, creative director of Forty Acres clothing explained in a press release. "That makes them a great partner for any progressive designer...The future is togetherness because together we are stronger."
But while there may be future collaborations between the entities, there's only one 30th anniversary of Do the Right Thing, so you'd better stock up on gifts now. As Chairman and Chief Executive Officer of rue21 Michael C. Appel warns, "When this very limited-edition collection—which will never be released again—is sold out, it is gone forever."
G/O Media may get a commission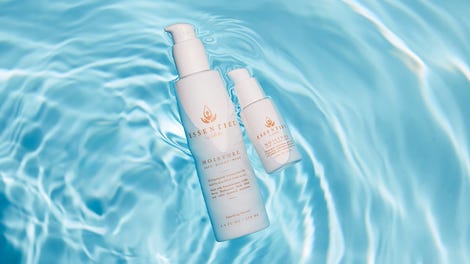 20% off
Essentiel by Adele
Of course, there are are other ways to celebrate the cinephiles in your life, and with the help of The Root's entertainment writer, Tonja Stidhum, we've got a few more suggestions that are better than simply Netflix and chilling this holiday season.
American Black Film Festival
The American Black Film Festival is the event of the year for black film fanatics, and if you have one in your life, no doubt they'd love the opportunity to see what's new and next with a pass package to 2020's event in Miami ($305 to $1275; airfare and lodging not included). Hit just the film and talk events between trips to the beach, or go all-in on an industry pass and attend master classes with some of the film world's finest (who you can also ogle throughout the festival). Either way, you'll be giving an insider's look at black filmmaking—or, you can take your chances on winning an all-expense-paid trip.
If you'd rather shop for a festival closer to home, they occur all over the country. Some of our favorites are the Pan African Film Festival (Los Angeles); Urbanworld (New York); Black Harvest (Chicago); and the Smithsonian African American Film Fest (Washington D.C.)—but there's no doubt a black film fest near you.
Funko
When we heard that collectibles company Funko would be producing a tribute to Ava DuVernay, we knew it had to make our gift guides this year—after all, DuVernay's Barbie likeness sold out within hours!
Alas, we won't get the big-headed version of the Oscar-nominated director until late January, but in the meantime, may we suggest the Us Funko set? They're flying off the shelves fast, but you can still catch them (or preorder the next batch). Bonus points if you gift them in tandem with the DVD!


Dig Into Get Out
In fact, if you've got an aspiring screenwriter who admires Peele's style, consider getting them his Academy Award-winning complete annotated screenplay of Get Out ($14.56) so they can explore the technique behind this new master of cinema.


Soul Popped
Of course, movies are synonymous with popcorn, and Soul Popped is perhaps the blackest brand we've heard of yet. Drawing its flavor profiles from soul food favorites like fried chicken, macaroni and cheese, banana pudding and dill sour pickles (and yes, classic butter is still an option), this 100% vegetarian black-owned brand is sure to put a down-home spin on movie night.


Hollywood Black
Our representation in Hollywood may be seeing a recent surge, but our history is long and rich. In Hollywood Black ($21.14; hardcover), award-winning author and film historian Donald Bogle delves into our stories from the silent era to present-day, paying tribute to the melanated talents who paved the way. And this exploration of black film history comes with an especially poignant touch: the late John Singleton penned the foreword to this new film buff staple.
Does it feel like this holiday will have a Hollywood ending? We've only got one week and one day until Christmas—stay tuned!