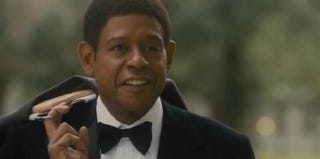 Lee Daniels' The Butler defied expectations this weekend as it became the No. 1 film at the box office, Deadline Hollywood reports. Universal's Kick Ass 2 was on track to be the top ticket-seller.
Tracking showed Universal's Kick Ass 2 (playing in 2,940 theaters) would be the #1 film this weekend. In fact Lee Daniels' The Butler (2,933 theaters) from The Weinstein Company was the #1 ticket-seller on both big online ticketsellers Fandango and MovieTickets Thursday - and indeed is the #1 film tonight with around $9 million and an 'A' CinemaScore from audiences to help word of mouth. [I]t's also looking like the biggest grossing film for the weekend with $27M (although TWC is lowballing $25M). 
Is the Oprah effect still effective?
Also interesting to note is that 72% of Fandango's The Butler ticket-buyers who were surveyed claimed that co-star Oprah Winfrey's involvement increased their interest in seeing the film. Love her or hate her, Oprah in her first movie role in 15 years is helping The Butler's box office right now.  
Read more at Deadline Hollywood.