Chana Garcia is a journalist, blogger, and cancer survivor who lives in New York City.
Anthony Anderson (Det. Kevin Bernard, 'Law & Order')
Anderson, 39, may be better known for his comic turns in films such as Me, Myself & Irene and supporting dramatic roles in hits such as The Departed and Transformers, but he fit in nicely when longtime cast member and fan favorite Jesse Martin (Det. Ed Green) exited in 2008.
CAPTIONS BY NICK CHARLES
Dule Hill (Burton 'Gus' Guster, 'Psych')
So is Psych, which airs on the USA Network, a genuine detective series or slapstick-laden buddy comedy? Bit of both, we guess. One thing for sure is that Hill, 35, has come a long way from his Charlie Young character on the West Wing. There he played a presidential aide, and now he plays the reluctant, almost-straight man to best friend Shawn Spencer (James Roday).
LL Cool J (OSP Senior Field Agent Sam Hanna, 'NCIS: Los Angeles')
G/O Media may get a commission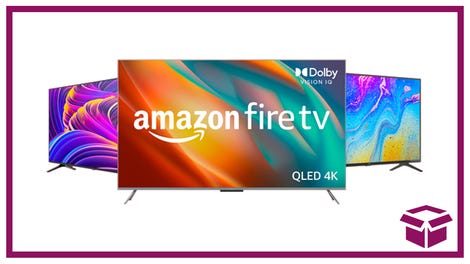 Ooh. stunning.
New Amazon Fire TVs
The latest installment of the Naval Criminal Investigative Service (NCIS) franchise features Cool J, probably, with apologies to Ice Cube, the second most successful rapper/hip hop artist to crossover to acting. Of course, Will Smith is number one. Cool J, aka James Todd Smith, 41, penned a song about his new series, No Crew is Superior.
Rocky Carroll (Director Leon Vance, 'NCIS & NCIS: Los Angeles')
Carroll's last full-time gig on TV was as Dr. Keith Wilkes on the medical drama Chicago Hope. When Carroll, 46, finally landed the role of the Grinch-like Vance on NCIS, he was reunited with Hope cast mates Mark Harmon and Lauren Holley. His character was transferred to the spin-off, NCIS: Los Angeles in 2009.
Dennis Haysbert (Sgt. Major Jonas Blane, 'The Unit')
You are always in good hands with Haysbert. Had to do that. As the spokesperson for Allstate Insurance, Haysbert is ubiquitous and invites friendly parody. But as President David Palmer on 24, he was inspiring. The son of a deputy sheriff, Haysbert, 55, and 6-foot-5, has always been seen as imposing and commanding. Yet his comedic role as Cuban baseball player Pedro Cerrano in the Major League trilogy has risen to cult status: "Is very bad to steal Jobu's rum; is very bad."
Shemar Moore (FBI Special Agent Derek Morgan, 'Criminal Minds')
Don't really watch Criminal Minds, but every now and then when we do, we are still amazed at how good looking Moore is. The former model and daytime television regular (Moore, 40, spent eight years on The Young and the Restless as Malcolm Winters), has proven that he just not another pretty face.
Hill Harper (Dr. Sheldon Hawkes, 'CSI: NY')
For the last three years, Harper, 44, has been awarded the NCAAP's Image Award for outstanding actor in a drama series. Politically and socially aware, Hill, who has a J.D. from Harvard Law School, is a member of the Obama for America National Finance Committee and has written three books.
Ice-T (Det. Odafin 'Fin' Tutuola,' Law & Order: Special Victims Unit')
Ice-T, nee Tracy Morrow, 52, has come a long way from Cop Killer, his controversial 1992 song that was perceived as glamorizing shooting police officers. Though he has mellowed with age, the one-time Army ranger still puts on a sterling stage show and remains an original in a musical genre rife with copycats.
Laurence Fishburne (Dr. Raymond Langston, 'CSI: Crime Scene Investigation')
Before signing on as the lead on the original CSI, Fishburne, 48, who has appeared in more than 50 films, counted Cowboy Curtis, his character on Pee-wee's Playhouse, as his best-known small-screen role. At least, we do. And we still think he was robbed of the Oscar for What's Love Got to Do With It in 1994.
Omar Benson Miller (Walter Simmons, 'CSI: Miami')
Yes he does bear a physical resemblance to Forrest Whitaker, and Miller has carved out a nice, steady career for himself at 31. We loved him in Spike Lee's World War II drama Miracle at St. Anna as PFC Samuel "Sam" Train. His character on the television series is described as a "theft specialist." Exactly what is that? Because we have several family members who might qualify.
Alimi Ballard (FBI Agent David Sinclair, 'Numb3rs')
Another show we don't catch a lot, though we did watch when Diane Farr (Megan Reeves) was on. Recently, Ballards' character was promoted to supervisor. Nice come up for Ballard, 32, who appeared in the short-lived Arsenio Hall sitcom, Arsenio, 13 years ago.
Thom Barry (Det. Will Jeffries, 'Cold Case')
So here is a mystery worthy of the Cold Case crew: There is no birth date to be found anywhere for Barry. Now, he's a regular cast member on a critically successful dramatic series that has garnered good ratings for seven years. And yet, nothing, nada, zilch. If someone knows, please let us know.
Ruben Santiago-Hudson (Police Captain Roy Montgomery, 'Castle')
The Tony Award-winning actor and screenwriter can now be seen on this dramedy about the pairing of a famous author and a first-class New York City Detective. It isn't heavy lifting, but Santiago-Hudson, 53, manages to steal most of the scenes he's in.
Omari Hardwick (Det. Ty Curtis, 'Dark Blue')
We love this show! The heroes are this close to being criminals themselves, and the cast, headed by Dylan McDermott, is talented and sexy. Hardwick (center left) plays Curtis, who is the closest the four-person team has to a normal character. He's married, but the undercover work sometimes calls for him to leave his wedding ring on the bedroom night table. Hardwick, 36, also starred in the short-lived series Saved, which we also liked.
Corey Reynolds (Det. Sgt. David Gabriel, 'The Closer')
We confess that we don't understand the appeal of The Closer, but it seems to get people's attention. Reynolds, 35, originated the role of Seaweed in the Broadway adaption of Hairspray and garnered both Tony and Drama Desk Award nominations.
Courtney B. Vance (FBI Assistant Director Stanford Wedeck, 'FlashForward')
We're slow. We don't get this show, and we never did get Lost. But we are glad that Vance, 50, has gotten steady work after Law & Order: Criminal Intent. The series' premise is that some event makes the entire planet simultaneously lose consciousness for 137 seconds, during which folks see what their lives will be like in six months. Stop laughing. Vance's character's flash-forward shows him on a toilet reading a newspaper. Really, stop laughing.
Mekhi Phifer (FBI Agent, Ben Reynolds, 'Lie to Me')
We miss ER, and Dr. Greg Pratt in particular, but it's nice to know that Phifer, 35, is back as a regular on a series. It seems so long ago that he beat out a cattle call of thousands to land the lead in Spike Lee's Clockers (based on the brilliant Richard Price novel of the same name).
Mehcad Brooks (Malcolm Bennet, 'The Deep End')
Brooks, 29, a former fashion model whose Calvin Klein billboards are legend in New York City and elsewhere, had a meaty role as Benedict "Eggs" Talley in the second season of one of our favorite shows, True Blood. Alas, he was killed off and ended up in this mid-season replacement series about young lawyers in Los Angeles.
Regina King (Det. Lydia Adams, 'Southland')
We are big fans of King. Yeah, she's done a ton of films, including Ray, but she's a personal favorite because she voices Huey and Riley Freeman on The Boondocks. Hilarious doesn't begin to describe how she brings the characters to life. So it's sometimes jarring to see King, 39, as the no-nonsense Adams in this very serious police drama.
Lorraine Toussaint (Captain Kate Perry, 'Saving Grace')
For Law & Order fanatics, Toussaint, 50, holds a special place.  In seven episodes, she portrayed Public Defender Shambala Green, who zealously defended her usually guilty clients and clashed loudly with the district attorneys, particularly Michael Moriarty's Ben Crane.