Cool-Breeze Air Conditioning supervisor Mike Trent (left) and recently hired Mike Turner install an air conditioner in a Miami Beach hotel on Jan. 6, 2012. The most recent jobs report indicated that 200,000 jobs were created in December, and the unemployment rate dropped to 8.5 percent.
Former Boyz II Men member Michael McCary (second from left) joins current members (from left) Shawn Stockman, Nathan Morris and Wanya Morris during a ceremony marking the band's star on Hollywood Boulevard on Jan. 5, 2012. The best-selling R&B group of all time received the first star of 2012 along Hollywood's Walk of Fame, and the 2,456th star of all time, as they celebrate their 20th anniversary with 60 million albums sold.
U.S. Rep. Michele Bachmann (R-Minn.), alongside her husband, Marcus Bachmann, and mother, Jean LaFave, speaks during a news conference after ending her presidential campaign on Jan. 4, 2012, in West Des Moines, Iowa. Bachmann finished sixth in the Iowa caucuses, well behind first- and second-place finishers Mitt Romney and Rick Santorum.
G/O Media may get a commission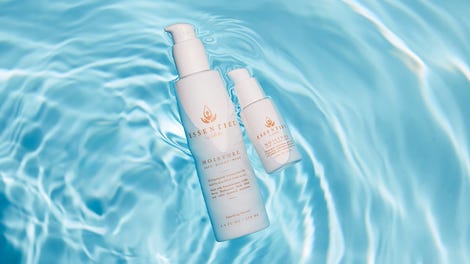 20% off
Essentiel by Adele
Republican presidential candidate and former Massachusetts Gov. Mitt Romney (left) talks with former presidential nominee U.S. Sen. John McCain (R-Ariz.) on Romney's campaign bus between events on Jan. 4, 2012, near Manchester, N.H. McCain announced his endorsement of Romney the day after Romney beat former U.S. Sen. Rick Santorum of Pennsylvania by only eight votes in Tuesday's "first in the nation" Iowa caucuses.
Beatrice Alabre bundles up against the cool weather as she walks along Lincoln Road Mall on Jan. 4, 2012, in Miami Beach. South Florida experienced one of the coldest days of the winter on Jan. 3, but temperatures are expected to warm up.
Serena Williams plays a backhand against Chanelle Scheepers of Russia during Day 2 of the 2012 Brisbane International at Pat Rafter Arena on Jan. 2, 2012, in Australia.
Dior Mathis, No. 3, and Kenjon Barner, No. 24, of the Oregon Ducks run out on the field after the Ducks defeated the Wisconsin Badgers 45-38 at the 98th Rose Bowl game on Jan. 2, 2012, in Pasadena, Calif.
People take part in the annual Coney Island Polar Bear Club New Year's Day swim on Jan. 1, 2012, in the Brooklyn borough of New York City. The club claims to be the oldest winter bathing organization in the U.S. and attracts hundreds to the beach for the annual swim in the Atlantic Ocean.
Actor-singer Tyrese Gibson joins Stevie Wonder as he performs at the Chelsea at the Cosmopolitan of Las Vegas on New Year's Eve.
A general view of the scene during New Year's Eve in Times Square.
On Dec. 29, 2011, a maintenance worker cleans panels containing the names of the victims at the site of the 9/11 terrorist attacks in New York City. Officials announced that in the 16 weeks since the 9/11 memorial opened to the public, it has seen more than 1 million visitors. The anticipated museum at the site is still under construction and is expected to open on Sept. 11, 2012.
Former Massachusetts Gov. and Republican presidential candidate Mitt Romney greets supporters during a campaign event on Dec. 29, 2011, at J's Homestyle Cooking in Cedar Falls, Iowa. Recent statewide polls put Romney and fellow candidate Rep. Ron Paul of Texas neck and neck going into next week's first-in-the-country Iowa caucuses, a litmus test for the GOP hopefuls
From left: Aini-Alem Dennis, 10, Mikalah Davis, 14, and Leilani Gill, 11, perform with the Farafina Kan Youth Ensemble during "A Kwanzaa Celebration" in the Panorama Room of the Our Lady of Perpetual Help Church on Dec. 29, 2011, in Washington, D.C. The event featured information on the background of Kwanzaa along with drumming and dancing.
On Dec. 28, 2011, a car carries a portrait of North Korean dictator Kim Jong Il during his funeral procession in Pyongyang. Millions of grief-stricken people turned out to mourn Kim, whose death has left the world scrambling for details about the transfer of power to his son Kim Jong Un.
Workers attach 288 new Waterford-crystal triangles on the 2012 Times Square New Year's Eve Ball at 1 Times Square in New York City on Dec. 27, 2011.
LeBron James, number 6 of the Miami Heat, dunks during a game against the Boston Celtics at American Airlines Arena on Dec. 27, 2011, in Miami.
President Barack Obama holds hands with daughters Malia and Sasha while they walk with friends at Sea Life Park on Dec. 27, 2011, in Honolulu. Obama spent the afternoon at the Hanauma Bay Nature Preserve before visiting the marine wildlife park.
Lil Wayne and Kanye West attend the Los Angeles Lakers vs. Chicago Bulls NBA game on Dec. 25, 2011, in Los Angeles.
Santa hugs a boy at a Christmas dinner hosted by Engine 277, Ladder 112, of the New York City Fire Department on Dec. 25, 2011, in the Bed-Stuy neighborhood of Brooklyn. Approximately 45 families were invited to the dinner through Housing Bridge, a local organization, and the U.S. Department of Housing Development. The firefighters paid for the event with their own money.
Alicia Keys, Egypt Dean and Swizz Beatz attend the Boston Celtics vs. the New York Knicks NBA game at Madison Square Garden on Dec. 25, 2011, in New York City.
Rapper Tyler, the Creator is arrested on suspicion of vandalism after performing at the Roxy Theatre in the early-morning hours of Dec. 23, 2011, in West Hollywood, Calif.
George Brown, a volunteer, prepares a hot plate of food at St. John's Bread and Life, a free meal service, on Dec. 23, 2011, in the New York City borough of Brooklyn. St. John's Bread and Life, which was founded in 1982, serves approximately 2,200 meals a day.
President Barack Obama shops for Christmas presents with his dog, Bo, at Petsmart on Dec. 21, 2011, in Alexandria, Va.
Actor Jonah Hill (left) and NBA player Chris Paul appear on The Tonight Show With Jay Leno on Dec. 22, 2011, in Burbank, Calif.
President Obama shakes hands with an Air Force soldier during a ceremony to mark the return of the United States Forces-Iraq and the end of the Iraq War on Dec. 20, 2011, at Joint Base Andrews, Md. The last U.S. troops left Iraq on Dec. 18, bringing the war to an end after nearly nine years.
Herbert King sorts mail at the Main Post Office on Dec. 19, 2011, in Chicago. U.S. Postal Service officials believe that this day will be the busiest mailing day of the holidays, with more than 1.7 million cards mailed in Chicago alone.
Estelle, Erykah Badu and Marsha Ambrosius backstage during VH1 Divas Celebrates Soul at Hammerstein Ballroom on Dec. 18, 2011, in New York City.
Women photograph a Michael Jackson-inscribed Victorian Revival-style armoire with a center mirror door where the late pop singer wrote "Train, perfection March April Full out May" during a press preview for the sale of fine art and furnishings from Jackson's Los Angeles mansion on Dec. 12, 2011, at Julien's Auctions in Beverly Hills, Calif. Personal effects from the home where he died on June 25, 2009, were put on display ahead of an auction of its contents. The value of the cabinet with inscribed words is estimated to be between $6,000 and $8,000.
Robert Griffin III of the Baylor Bears poses with the trophy after being named the 77th Heisman Memorial Trophy Award winner at the Best Buy Theater on Dec. 10, 2011, in New York City.
Michelle Obama, President Barack Obama and Jill Biden (with Vice President Joe Biden) arrive for remarks at the White House during a Hanukkah reception on Dec. 8, 2011, in Washington, D.C. The reception, held before the official start of Hanukkah on Dec. 20, helped recognize and celebrate the Jewish tradition also known as the Festival of Lights.
A police officer outside Squires Hall at Virginia Tech on Dec. 8, 2011, in Blacksburg, Va. Two people were shot, including a police officer, on the campus.
Jay-Z attends the United Way of New York and Shawn Carter Scholarship Foundation press conference at Carnegie Hall on Dec. 8, 2011, in New York City. He'll be performing at the famed venue on Feb. 6 and 7, 2012, to benefit his foundation and the United Way.
Tiger Woods speaks to fans after winning the Chevron World Challenge at Sherwood Country Club on Dec. 4, 2011, in Thousand Oaks, Calif.
Herman Cain speaks to supporters on Dec. 2, 2011, during a town hall meeting at Laurel Ridge in Rock Hill, S.C. Cain suspended his campaign for the Republican presidential nomination in Atlanta the next day.
The Rockefeller Center Christmas Tree is lit on Nov. 30, 2011, in New York City.
Workers remove a fallen tree that crushed a gas station after strong Santa Ana winds cause the worst local wind damage in decades on Dec. 1, 2011, in Pasadena, Calif. As many as 230,000 people were without power, and the city of Pasadena closed schools and declared a state of emergency.
From left: Dr. Patricia Nkansah-Asamoah, director of PMTCT Clinic at Tema Hospital in Accra, Ghana; Alicia Keys, musician and co-founder of Keep a Child Alive; and Bono, lead singer of U2 and co-founder of HIV/AIDS awareness organizations the ONE Campaign and (RED), participate in a discussion on World AIDS Day — Dec. 1, 2011 — at the Jack Morton Auditorium on the campus of George Washington University in Washington, D.C. Focusing on "the beginning of the end of AIDS," the event was sponsored by the ONE Campaign and (RED).
Workers hang a huge red ribbon on the North Portico of the White House on Nov. 30, 2011, one day ahead of World AIDS Day. The day was created in 1988 at the World Summit of Ministers of Health on Programmes in London, which brought together health ministers and delegates from 148 countries.
Alvin Ailey dancers perform at the 2011 Alvin Ailey American Dance Theater's opening-night gala at New York City Center on Nov. 30, 2011.
Republican presidential candidates arrive onstage before the start of a debate on national security Nov. 22, 2011, at the Daughters of the American Revolution Constitution Hall in Washington, D.C. The debate was hosted by CNN in partnership with the Heritage Foundation and the American Enterprise Institute. From left: former Pennsylvania Sen. Rick Santorum, Texas Rep. Ron Paul, Texas Gov. Rick Perry, former Massachusetts Gov. Mitt Romney, Herman Cain, former House Speaker Newt Gingrich, Minnesota Rep. Michele Bachmann and former Utah Gov. Jon Huntsman.
Travelers check in at the United Continental Holdings counter at LaGuardia Airport in New York City on Nov. 22, 2011. U.S. travel during the Thanksgiving holiday weekend is expected to rise 4 percent from last year as Americans take trips they had been putting off because of the weak economy, AAA said.
President Barack Obama signs legislation into law that will provide business tax credits to help put veterans back to work with (third left to right) Sens. Patty Murray (D-Wash.), Scott Brown (R-Mass.) and Max Baucus (D-Mont.); Michelle Obama; and Jill Biden (far right) at the Eisenhower Executive Office Building on Nov. 21, 2011, in Washington, D.C. The jobless rate for veterans of the Iraq and Afghanistan wars is 12.1 percent, White House officials said, compared with 9 percent for the population at large.
A message is written in chalk on the sidewalk during a demonstration at the University of California, Davis, campus on Nov. 21, 2011. Thousands of Occupy protesters staged a demonstration on the campus against the UC Davis police who pepper-sprayed students sitting passively with their arms locked during a demonstration on Nov. 18.
A patron hugs owner Ephrame Kassay at Mellon Convenience Store in Southeast Washington, D.C., for giving him some plastic sacks on Nov. 18, 2011. This year, as Kassay has done in each of the three years since opening the store, he hosted a turkey giveaway and block party for customers as a way of thanking them for their business. "They deserve this," Kassay says, adding, "I want to give back because without my customers, I'm nothing."
Pallbearers help carry the casket of rapper Heavy D at his funeral service at Grace Baptist Church on Nov. 18, 2011, in Mount Vernon, N.Y.
Law-enforcement personnel investigate near the site where a bullet hit an exterior window on the south side of the White House on Nov. 16, 2011. The bullets are believed to have been fired last Friday after witnesses heard gunshots and saw two vehicles speeding away from the area.
An Occupy Wall Street protester sleeps at Judson Church on Nov. 16, 2011, in New York City. Police had removed the protesters from Zuccotti Park early in the morning. A judge ruled that protesters are allowed back into the park but won't be allowed to camp there. Since Sept. 17, hundreds of protesters rallying against inequality in America had been sleeping in tents and under tarps in the park, which has become the epicenter of the global Occupy movement. The raid in New York City follows recent similar moves in Oakland, Calif., and Portland, Ore.
Musician Trevor "Busta Rhymes" Smith attends a Google Inc. event to introduce its Google Music service in Los Angeles on Nov. 16, 2011. Google, the world's largest Internet-search company, introduced a music service that will let people buy songs through the Android Market, stepping up competition with Apple Inc.'s iTunes store.
Front row: Chauncey Billups, Carmelo Anthony and Derek Fisher, president of the National Basketball Players Association, listen as NBPA Executive Director Billy Hunter speaks at a press conference after the association met on Nov. 14, 2011, at the Westin New York at Times Square to discuss the latest collective-bargaining offer.
Froml left: Tuskegee Airmen Roscoe Brown Floyd Carter, Dabney Ian Montgomery, Arthurine Carter and Wilfred DeFour, along with their friends and wives, pose with actor Cuba Gooding Jr. (front row, left) and former football player Lynn Swann (front row, right) during the NFL and Red Tails salute to the Tuskegee Airmen at Met Life Stadium in East Rutherford, N.J., during Veterans Day weekend. The salute took place at the New York Jets vs. New England Patriots game on Nov. 13, 2011.


Students and those in the community fill the streets and react after head football coach Joe Paterno was fired during the Penn State Board of Trustees Press Conference on Nov. 9, 2011, in State College, Pa.


Former heavyweight champion Joe Frazier poses for a portrait at his boxing gym on March 18, 2009, in Philadelphia. Frazier passed away on Nov. 7, 2011, at the age of 67.


Dr. Conrad Murray remains expressionless as the jury returns with a guilty verdict in his involuntary-manslaughter trial at the Los Angeles Superior Court on Nov. 7, 2011. Murray was convicted in the 2009 death of pop singer Michael Jackson from an overdose of the powerful anesthetic propofol. Sentencing will take place Nov. 29.


People try Activision Blizzard Inc.'s Call of Duty: Modern Warfare 3 on Microsoft Corp.'s Xbox 360 video game consoles in New York City on Nov. 7, 2011. The eighth Call of Duty may sell as many as 6 million copies in 24 hours, starting Nov. 7, and 18 million units by Jan. 1, Arvind Bhatia, a Sterne Agee & Leach Inc. analyst in Dallas, says.


A tower of shelves in the warehouse at the Manna Food Center holds food for the Smart Sacks program on Nov. 7, 2011, in Gaithersburg, Md. Every week, Smart Sacks sends backpacks with two days' worth of food home with more than 1,700 disadvantaged elementary school children in Montgomery County. New census data show that a record number of Americans are now counted among the ranks of the "poorest poor."


Runners make their way through the borough of Queens during the 2011 ING New York City Marathon on Nov. 6, 2011. The 26.2-mile marathon, whose course extends through the city's five boroughs, is one of the largest in the world.
Clockwise from left: Italian Prime Minister Silvio Berlusconi, German Chancellor Angela Merkel, Turkish Prime Minister Tayyip Erdogan, President Barack Obama and French President Nicolas Sarkozy at the G-20 Summit on Nov. 3, 2011, in Cannes, France. The world's top economic leaders met in hopes of fending off a global recession and finding an answer to the eurozone crisis.
Chart-topping rappers Kanye West and Jay-Z perform their collaborative album Watch the Throne at the Verizon Center in Washington, D.C., on Nov. 3, 2011.
From left: House Ways and Means Committee Democrats Lloyd Doggett of Texas, Sander Levin of Michigan, Charles Rangel of New York and Jim McDermott of Washington hold a press conference about unemployment insurance at the U.S. Capitol Nov. 3, 2011. Democrats will be introducing an unemployment-insurance extension bill soon to curtail the possibility of unemployment benefits expiring in 2012.
Condoleezza Rice discusses her memoir, No Higher Honor, at the Bank United Center on Nov. 3, 2011, in Miami.
Protesters climb on a railroad crossing at the Port of Oakland during Occupy Oakland's general strike on Nov. 2, 2011, in California. Tens of thousands of protesters have marched to the port for a general strike organized by Occupy Oakland. Port operations shut down for the evening.
Costumed revelers Tanaysha (foreground) and Treshawn Downing at the "HarlemWeen" Halloween celebration on Oct. 31, 2011, in New York City.
A crowd of people cross the street in midtown Manhattan on Oct. 31, 2011, in New York City. Around the world, countries marked the global population's rise to 7 billion Monday. The United Nations chose Monday to symbolize the milestone, since demographers are not sure exactly when the world's population will reach the 7 billion mark.
Georgetown University students line up on Oct. 31, 2011, in Washington, D.C., to talk with Michael Eric Dyson, left, after his sociology course that focuses on the life and work of Jay-Z.
A man walks his dog through the snow in New York City's East Village neighborhood on Oct. 29, 2011. An early snowstorm delivered more than 10 inches of snow to certain areas along the East Coast. In the past 135 years, there have been only three days of measurable snowfall in October in New York City's Central Park.
Workers put up Halloween decorations on the north lawn of the White House Oct. 28, 2011, in Washington, D.C. President Barack Obama and first lady Michelle Obama will be hosting guests at the White House to celebrate Halloween.
Calvin Lyte of Guyana raises his right hand while he swears an oath to the United States of America during a naturalization ceremony at Liberty Island on Oct. 28, 2011, in New York City. One hundred twenty-five citizens were naturalized in honor of the Statue of Liberty's 125th birthday.
Dozens of people sleep in tents set up as part of the Stop the Machine protest in Freedom Plaza on Pennsylvania Avenue between the White House and the U.S. Capitol on Oct. 27, 2011, in Washington, D.C. Inspired by the Occupy Wall Street demonstrations in New York, Stop the Machine has occupied Freedom Plaza since Oct. 6. Protesters are demanding "peace and social, economic and environmental justice" and "will use ongoing actions of nonviolent resistance to disrupt the forces that corrupt our political process and undermine our rights and human needs."
Delegate Eleanor Holmes Norton (D-D.C.), right, and D.C. resident Vanessa Sherrie shop at the Safeway on 14th Street SE Oct. 27, 2011, to kick off the National Food Stamp Challenge. The challenge asks participants to spend $31.50 on a week's worth of groceries, which is the average allotment of the Supplemental Nutritional Assistance Program, formerly called Food Stamps.
The Freedom Riders received a Search for Common Ground Award at the Carnegie Institution for Science on Oct. 27, 2011, in Washington, D.C.
First lady Michelle Obama (right) and Chicago Mayor Rahm Emanuel (second right) chat with workers during a tour of Iron Street Urban Farm, one of the Growing Power farms, on Oct. 25, 2011, in Chicago. Earlier in the day, the two visited a Walgreens store that sells produce. The visits were part of the first lady's Let's Move! initiative, which is designed to promote healthy eating and lifestyles in low-income areas.
Tyra Banks attends the Get Schooled Foundation's surprise pep rally with 400 students at Mary McLeod Bethune Middle School on Oct. 27, 2011, in Los Angeles.
U.S. specialist Keneth Horton from the U.S. Army's Task Force Lift "Dust Off," Charlie Company 4-101 Aviation Regiment, plays guitar in Forward Operating Base Dwyer in Afghanistan's southern Helmand Province on Oct. 24, 2011. A decade into the war, U.S. troops say that Afghan forces are still overly reliant on them.
Billy Hunter (center), executive director of the National Basketball Players Association, and Derek Fisher (left), president of the association, speak at a press conference after NBA labor negotiations at Sheraton New York Hotel & Towers on Oct. 20, 2011, in New York City. Hunter announced that talks have broken down and no further meetings are scheduled.
Libyans wave their new national flag as they celebrate in the streets of Tripoli following news of Muammar Qaddafi's capture on Oct. 20, 2011. A Libyan National Transitional Council spokesman said that Qaddafi was killed by new-regime forces in their final assault on the last pocket of resistance in his hometown, Sirte.
Chris Brown performs at the Staples Center in Los Angeles on Oct. 20, 2011.
N-Jeri Johnson, 6, has his eyes examined during a free health clinic at the Los Angeles Memorial Sports Arena on Oct. 20, 2011. The clinic, operated by CareNow LA, a Los Angeles-based nonprofit group, will serve nearly 5,000 uninsured and underinsured people over four days. The goal is to serve about 1,200 people each day, providing free medical, dental or vision care by more than 800 medical professionals.
David Ortiz of the Boston Red Sox smiles on the field after receiving the 2011 Roberto Clemente Award. Chevrolet presented the award before Game 2 of the MLB World Series between the Texas Rangers and the St. Louis Cardinals at Busch Stadium on Oct. 20, 2011, in St. Louis, Mo.
Nas, Common and Yasiin Bey (aka Mos Def) attend Webster Hall on Oct. 20, 2011, in New York City.
A visitor looks at a piece titled Le paiement du tribut by U.S. artist Kehinde Wiley on the opening day of the International Contemporary Art Fair on Oct. 19, 2011, at the Grand Palais in Paris. The 2011 exhibition, which runs from Oct. 20 to 23 at the Grand Palais and the Louvre, features 168 galleries and works from more than 2,800 contemporary artists.
President Barack Obama speaks at Greensville County High School in Emporia, Va., on Oct. 18, 2011, during the second day of his three-day American Jobs Act bus tour to discuss jobs and the economy. The tour through North Carolina and Virginia — states that Obama narrowly won in 2008 — marks his latest effort to generate support for a $447 billion jobs bill blocked by Republican lawmakers in Washington.
Ben "B-Roc" Ruttner of the Knocks and Vince Bannon attend the 2011 CMJ mashup at the Thompson LES Hotel on Oct. 20, 2011, in New York City.
A man photographs himself while he visits the Dr. Martin Luther King, Jr. National Memorial after a rally on the National Mall Oct. 15, 2011, in Washington, D.C. Activists gathered for the annual rally to celebrate the civil rights movement and rally for equal employment.
General atmosphere at the 27th Annual AIDS Walk Los Angeles on Oct. 16, 2011, in Santa Monica, Calif.
Quarterback Michael Vick of the Philadelphia Eagles scrambles down the sideline during the game against the Washington Redskins at FedEx Field on Oct. 16, 2011, in Landover, Md. The Eagles won 20-13.
Activist Angela Davis attends Black Girls Rock! 2011 at the Paradise Theater on Oct. 15, 2011, in New York City.
U.S. President Barack Obama and first lady Michelle Obama stand with South Korean President Lee Myung-bak and Lee's wife, Kim Yoon-ok, in the Cross Hall as they arrive for a state dinner at the White House on Oct. 13, 2011. The state visit comes only a day after Congress passed a free-trade agreement with South Korea.
On Oct. 14, 2011, members of Occupy Wall Street face off with police during a celebration march after learning that they can stay in New York City's Zuccotti Park. Occupy Wall Street protesters and the New York Police Department avoided a potential clash as the real estate company that owns Zuccotti Park, where the protests began, decided to put off its planned cleaning of the square.
People line up to buy the iPhone 4S inside an Apple Inc. store in New York, U.S., on Friday, Oct. 14, 2011. Apple Inc. is poised to sell as many as 4 million units of its new iPhone 4S this weekend after customers around the world lined up to buy one of the last products developed under Steve Jobs.
John Orozco of the USA competes on the horizontal-bar apparatus in the Men's All Around Final during Day 8 of the Artistic Gymnastics World Championship Tokyo 2011 at Tokyo Metropolitan Gymnasium on Oct. 14, 2011.
Dr. Conrad Murray looks on during his involuntary manslaughter trial at the Los Angeles Superior Court on Oct. 12, 2011, in downtown Los Angeles. Murray is charged in the death of singer Michael Jackson, who died of an overdose of prescription drugs, including propofol and lorazepam, in June of 2009.
A shipping container is off-loaded from a ship at Port Everglades on Oct. 12, 2011, the day Congress voted to pass free-trade agreements with South Korea, Colombia and Panama. Proponents of the agreements say they have the potential to spur economic activity and put Americans back to work.
Crowds watch as Republican presidential candidate Herman Cain speaks to a crowd at Ohio Christian University on Oct. 13, 2011, in Circleville, Ohio. Cain has seen a rise in his popularity, according to recent polls, and now rivals former Massachusetts Gov. Mitt Romney.
A bank-owned sign is seen in front of a foreclosed home on Oct. 13, 2011, in Miami. RealtyTrac released a report that indicated that more homes were being foreclosed on in the third quarter of 2011.
NBA player Amar'e Stoudemire of the New York Knicks and Fox & Friends host Brian Kilmeade play a basketball game during a taping of Fox & Friends at Fox Studios on Oct. 12, 2011, in New York City.
Prince, Blanket and Paris Jackson appear onstage at the "Michael Forever" concert to remember their late father, Michael Jackson, at the Millennium Stadium on Oct. 8, 2011, in Cardiff, United Kingdom.
Archbishop Emeritus Desmond Tutu kisses his wife, Leah, during his 80th birthday festivities at St. George's Cathedral on Oct. 7, 2011, in Cape Town, South Africa.
The Rev. Al Sharpton joins Wall Street protesters at Zuccotti Park, where hundreds of activists are living, on Oct. 10, 2011 in New York City. Hundreds of activists affiliated with the Occupy Wall Street demonstrations have been living in the park in the Financial District near Wall Street.
President Barack Obama held a news conference in the East Room of the White House Oct. 6. Obama spoke about the $447 billion jobs bill he has sent to Congress.
A combination of three recent photos shows (from left) Yemen's Arab Spring activist Tawakkul Karman, Liberian President Ellen Johnson Sirleaf and Liberian "peace warrior" Leymah Gbowee, who won the 2011 Nobel Peace Prize, announced Oct. 7. The three prizewinners share the 2011 award "for their nonviolent struggle for the safety of women and for women's rights to full participation in peace-building work," Norwegian Nobel Committee president Thorbjoern Jagland said in his announcement.
Candles, flowers and an iPhone are displayed in remembrance of Steve Jobs, founder and former CEO of Apple Inc., outside the Apple Store on West 66th Street on Oct. 5 in New York City. Jobs, 56, passed away that day after a long battle with pancreatic cancer.
Rihanna performs for her Loud tour at the O2 Arena on Oct. 5 in London.
First lady Michelle Obama walked her dog Bo while hosting a Let's Move Soccer clinic on the South lawn of the White House, on Oct. 6. She was joined by members of the U.S. Women's National Soccer Team and children from Philadelphia's Soccer Sisters United and Woodbridge, Va.'s Prince William Courage Soccer Club.
Rapper Darryl "DMC" McDaniels (L) and former New York Gov. David Paterson attend the 2011 Children's Rights Benefit at the Plaza Hotel on Oct. 4 in New York City.
City officials, state lawmakers and union officials protest proposed cuts of the New York Department of Education on Oct. 4 in New York City. The "Day of Action" protests rallied against the proposed cuts of 716 of New York City's school aides, parent coordinators and other members of school support staffs.
Justin Upton of the Arizona Diamondbacks breaks his bat in the fifth inning against the Milwaukee Brewers in game three of MLB's National League Division Series at Chase Field on Oct. 4 in Phoenix.
A model walks the runway during the Paco Rabanne Ready to Wear Spring-Summer 2012 show at Paris Fashion Week on Oct. 4.
Republican presidential candidate Herman Cain speaks to the media outside Trump Towers before a scheduled appearance with Donald Trump on Oct. 3 in New York City. Cain, a fiscal and social conservative, won a recent Florida straw poll of Republican candidates.
A Wall Street protester wakes up on Oct. 3 at New York City's Zuccotti Park, in the financial district, which she and hundreds of other activists with the "Occupy Wall Street" demonstrations are occupying. The activists have been gradually converging over the past two weeks to rally against the influence of corporate money in politics, among a host of other issues.
Linebacker Ray Lewis of the Baltimore Ravens is introduced before taking on the New York Jets at M&T Bank Stadium on Oct. 2 in Baltimore.
Kanye West and model Chanel Iman attend the Givenchy Aftershow Party at L'Arc on Oct. 2 in Paris.
Stevie Wonder, will.i.am of Black Eyed Peas, Herbie Hancock and Mary J. Blige backstage on Oct. 1 at New York City's Beacon Theater during the STING: 25th Anniversary/60th Birthday Concert to benefit the Robin Hood Foundation.