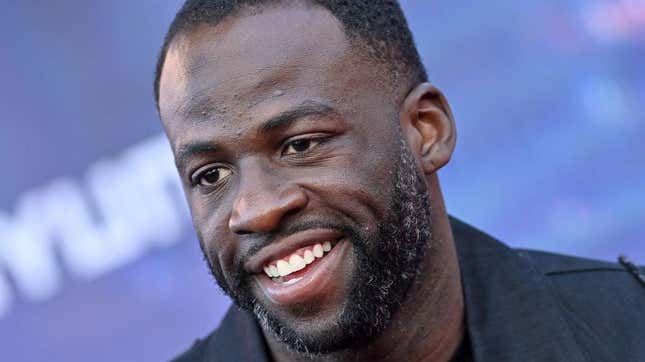 It's been nearly nine months since the video of Draymond Green wailing off on Jordan Poole in practice was leaked to the public. But still, he refuses to let it go.
Kelly Rowland and Marsai Martin On Their New Film "Fantasy Football"
On Tuesday, a clip of Green's appearance on the Pat Bev Podcast saw him explaining that he didn't hit his former Warriors teammate Jordan Poole just for kicks.
In the clip, he says, "I don't just hit people. Dialogue of course happens over time and you usually ain't just triggered by something that fast and to that degree."
He continues, "This is a team. Ain't nobody on my team triggering me in an instant. We know stuff that you don't say amongst men. We know there's things that you have to stand on."
While the clip was just a fraction of what Green and Patrick Beverly discussed in the full episode, it was enough to get the attention of Jordan's father, Anthony Poole.
In response to the clip, Anthony tweeted, "I'm stand on this that's is some bs. Jp was his guy and he avoid me all last yr. He is a soft as bitch and I'm standing on this and he didn't apologize to me and my wife. So he lame and me and him can meet anytime he want."
As we all know, Green is not one to back down from anyone. So naturally, he responded by tweeting, "That's so cute… it's impossible to avoid you an arena for a year champ. I got get my family from that family room every game. And stop using those words, they usually don't go over well amongst men."
Granted, there's nothing Green says these days that surprises me, but this is a total 180-degree turn from the remorseful and apologetic attitude he had a year ago after "the punch" was seen by the entire sports world. Hell, he even created a mini-documentary to reflect on his altercation with Poole, and his energy was nothing compared to the feelings he's shared recently.
Just as we thought this social media scuffle was ending, Jordan's close friend, Ralen Brown, responded to Green's words on Instagram, writing in a post, "He literally took us under his wing because of the Midwest connection & was over his house during the pandemic all the time, he supposedly called himself our OG and LEADER, you can see how proud he was in this video, but what changed."
He continued, "A lot of y'all hoop how many times at practice you swung on yo lil homie like that…tbh we've been handling thus more player & mature than @money23ggreen."

I mean, he's not wrong. While Draymond has continued to address the altercation, Poole has done his best to let it die. When asked about it in recent interviews, he's refused to answer it and turned the focus to his new team, the Washington Wizards.
Draymond should do the same.