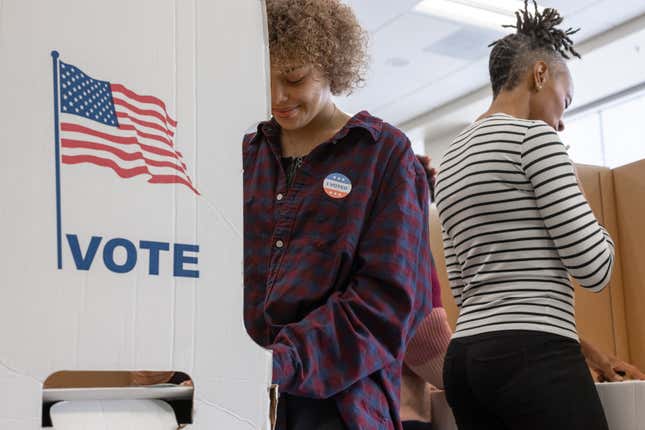 The fight over whether people convicted of felonies should be deprived of their voting rights has been brewing for decades. And a new lawsuit in Virginia could rip that debate wide open.
On Monday, attorneys from the ACLU of Virginia, Protect Democracy, and WilmerHale sued the state of Virginia on behalf of disenfranchised Virginians. The lawsuit is challenging a provision of Virginia's constitution that automatically removes the voting rights of people convicted of felonies. The plaintiffs argue that the provision violates a 150-year-old federal law dating back to Virginia's readmission into Congress after the Civil War.
Before we get into the potential impact of this lawsuit, it's worth diving into the history. In 1870, Virginia was welcomed back into the fold after the Civil War with a series of concessions. One of those concessions under the Virginia Readmission Act was that Virginia couldn't deprive citizens of the right to vote except for a narrow set of "felonies at common law."
The lawsuit argues that many modern felonies, such as drug crimes, weren't "felonies at common law," meaning Virginia has no right to disenfranchise people for all modern felonies. It's certainly not a slam dunk case, but it could restore the voting rights of the hundreds of thousands of disenfranchised Virginians, like Minister Melvin Wingate.
Wingate was convicted of fraud nearly 30 years ago. And despite serving his time, paying all his fines, and completing his parole, he's still unable to vote in any Virginia elections.
"As a minister, I'm a firm believer in second chances and being able to vote would be a chance for me to participate fully in my community," said Wingate in a statement. "But since I was released in 2001, I've been unable to vote in five presidential elections, six midterm elections, and five Virginia gubernatorial elections."
Under previous Gubnetrorial administrations, there have been efforts to restore the voting rights of people convicted of felonies, but under Republican Governor Glen Youngkin, it's been increasingly more difficult for people to get their rights restored. in April plaintiffs filed a separate lawsuit regarding Youngkin's process for restoring voting rights.
According to the most recent lawsuit, roughly 312,000 Virginias are disenfranchised for felony convictions. And Black Virginians make up half of that population despite only accounting for 20 percent of the state's overall population. It's not clear whether this litigation will be successful, but it certainly brings renewed attention to a fight that has endured for years.