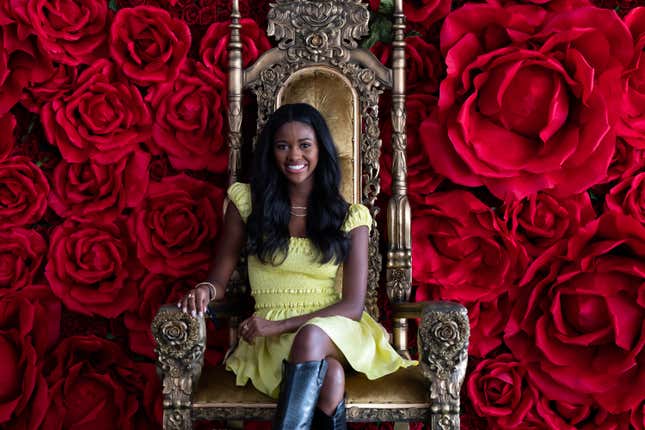 Charity Lawson, 27, is Season 20's Bachelorette! You may remember the charismatic Georgia native from Season 27 of ABC's The Bachelor. Now, you can watch her be the leading lady on Monday evenings on The Bachelorette. She sat down with The Root to give a little insight into her Bachelor Nation journey.

The Bachelorette's Charity Lawson Shares Details About Life After The Show With Fiancé Dotun Olubeko
A common fact about Bachelors and Bachelorettes is that they often base their relationship goals on their parent's marriages. And Charity's parents, who have been married for almost 50 years, have the marriage she dreams will come true.
"My parents' relationship and marriage is honestly something that I look up to and is a big inspiration," she told The Root. "It's definitely something that I want to one day replicate in some way. I think coming into the role as Bachelorette it definitely feels like my purpose is to find a stable, consistent loving partner, someone who shows up just like my dad does for my mom."
Of course, we had to ask Charity the weight of being only the fourth Black Bachelorette out of the series' 20 seasons. The Bachelor franchise categorizes her as the fourth Black Bachelorette, but only the second "monoracially Black" Bachelorette after Season 13's Rachel Lindsay, as Season 16's Tayshia Adams and Season 18's Michelle Young do not identify as full-Black women.
"It's insane," she said. "I think when we vocalize it, it's a little sad to hear. But it's also so powerful because I'm honored to be the fourth woman of color, but the second Black woman to be the Bachelorette. And it's not something that I take lightly. I understand and acknowledge the significance of what it means to our community. The franchise itself has so many ways it can continue to make strides in diversity, inclusivity, all those things."
During the season premiere, which aired last Monday, Charity is introduced to 25 men who are vying for her heart. And to our delight, we finally get to see more racial diversity in her selections than in previous seasons. But for those wondering how race plays into Charity's dating history, She isn't as hung up on race as people may think.
"I don't like to say I just stick to a type. I don't have a type. I am drawn to people's hearts, people's personalities," she said. "So for me, I think you'll see me not really stick to a mold this season of what people may think I should be pursuing and vice versa. So you'll see a lot of that exploration happen throughout this season of trying all the things!"
You can check out Charity's journey to love on Mondays on ABC's The Bachelorette.