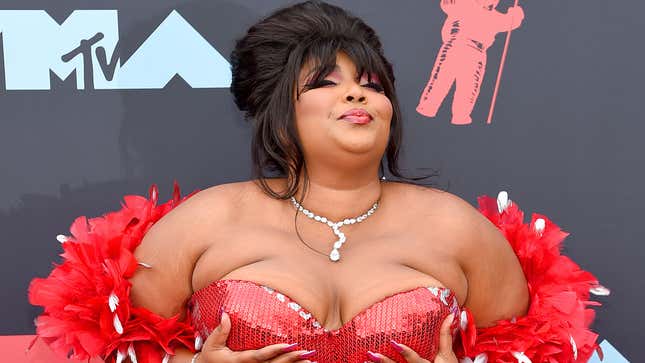 "Lemme talk to y'all for a second. I'm tired of the bullshit, and I don't have to know your story to know that you're tired of the bullshit, too," Lizzo told the MTV VMAs audience on Monday night, during a blazing mashup of her hits "Truth Hurts" and "Good as Hell."
"It's so hard trying to love yourself in a world that doesn't love you back, am I right?" she continued. "So I want to take this opportunity right now to just feel good as hell...because you deserve to feel good as hell. We deserve to feel good as hell!"
Lizzo may have been referring to winning her own headlining spot in an industry notoriously cruel to bigger bodies, or to the bevy of body-positive beauties of all sizes and shapes bopping behind her—and frankly, we need a better term than "body-positive," because that shit was beyond. But as the camera panned the audience at Newark, N.J.'s Prudential Center, it was clear her message resonated with everyone on site. America, we have a new leader—I suppose that's why we've taken to lovingly calling her "Prezzo."
Reflecting on her killer performance and crew, Lizzo wrote the following on Instagram:
Every woman on that stage had a story of either why they shouldn't have been on that stage or why they didn't believe they deserved to be on that stage, including myself. "Imposter syndrome" is a privilege to the most marginalized group in America. Not only were we taught to believe we didn't belong in the spotlight, but when we finally get to a place to self-worth the world tries to knock us down. Not this time. The world smiled with us. The world sang us. The world saw our beauty last night. The world saw black women feeling Good As Hell and cheered us on.
Of course, if there was a theme to the 2019 VMAs, it actually might've been nostalgia; though the faces were new, there were some definite throwback moments in the 34th annual ceremony—both in Missy Elliott's jawdropping retrospective medley (with five costume changes, no less) and on the red carpet, where Lizzo once again stunned in a red strapless Jessica Rabbit-inspired Moschino gown emblazoned with sequins that read "Siren" (Let 'em know, Sis!), while new daytime host Keke Palmer gave her golden beaded column a retro touch with a Swarovski crystal-encrusted vintage cell phone.
G/O Media may get a commission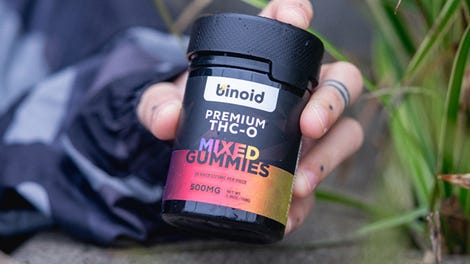 25% Off + Free Shipping
Binoid THC-O Gummies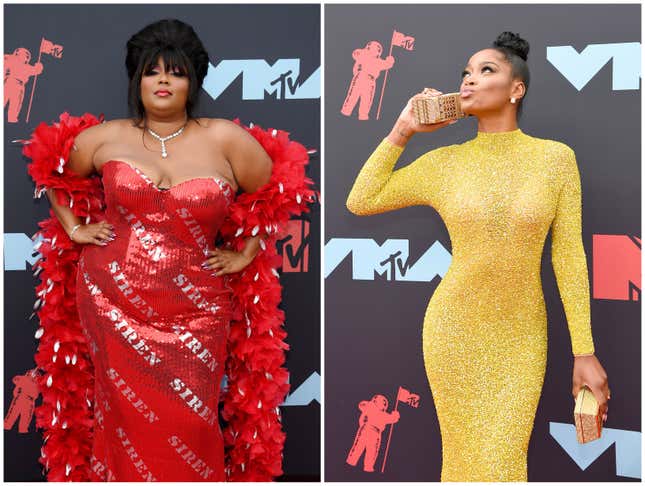 Who else showed out last night? Well, H.E.R. brought along one of the five cold-blooded friends she owns (aptly named "Noodle") to the red carpet, as well as a dose of real womanhood to the VMAs stage. Megan Thee Stallion gave us couture twerk-wear at its finest, turning out the VMA's pre-show audience like the "big ol' freak" she is, and tributes to Aaliyah and Prince also made surprise appearances (who knew assless outfits would become a theme of the night)? As always, you can relive the magic in our slideshow below...