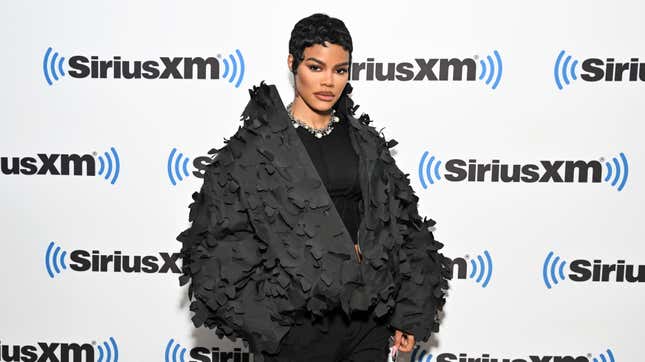 If you've been saying a little prayer for the upcoming Dionne Warwick biopic, then boy, do I have good news for you. Over the weekend, it was revealed that the highly anticipated film is currently in the works, with singer and actress Teyana Taylor set to star.
Dionne Warwick: Don't Make Me Over Is Our TV Pick This Week
"We're already working on it," Taylor shared in an exclusive clip shared to Billboard ahead of Monday's episode of the Tamron Hall show. "We're in the building process right now. I always wanted to make sure I could lock in with any person that I would be playing."
She then went on to reference how intentional Angela Bassett and Jamie Foxx were in getting close with Tina Turner and Ray Charles for their portrayals in What's Love Got to Do With It? and Ray, respectively.
"I miss when movies was like that, when you get to like, really know them, tap in and really bond and build," she said, before later adding of Warwick: "I've always been a firm believer and stood on safety. She's had a wonderful career, and I think right now is about making her feel as safe as possible to tell her story because a lot of these stories get misconstrued or dramatized to an extent. That's not really where we want to go."
Taylor can currently be seen in the lead role in A.V. Rockwell's feature directorial debut, A Thousand and One, currently showing in theaters nationwide. The emotionally-gripping film premiered at this year's Sundance Film Festival and eventually took home the top Grand Jury Prize.
Ahead of the film's wide release, Rockwell told The Root: "I appreciated the fact that even though this may not have been something that they intrinsically identified with on the surface, they did identify with the story on a human level. Just the story of these two human beings, fighting for love, fighting for family and fighting for things that we all want universally."