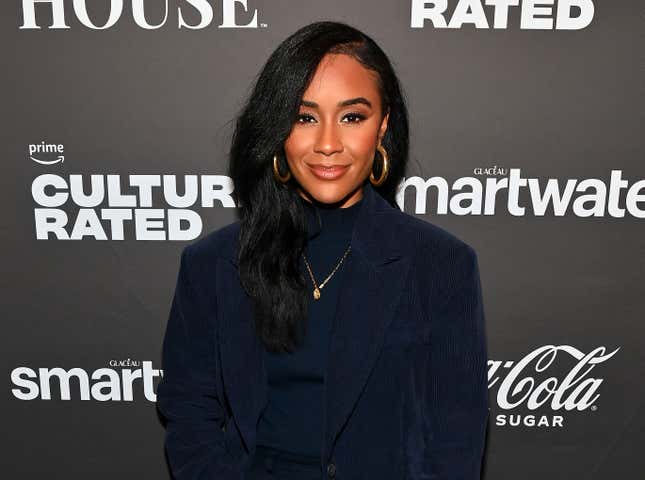 I know we've barely made it out of awards season, but it's never too early to keep our eyes on the standout projects you'll be hearing about in the next awards cycle. Coming out of the Sundance Film Festival, the film everyone was talking about was A Thousand and One. In her feature directorial debut, A.V. Rockwell helms a story about Inez, played by Teyana Taylor, an unpredictable woman who takes her son back from the foster system, then tries to give them a fresh start. Sundance's Grand Jury Prize winner is an emotional tale of a complex Black woman who is doing the best she can to survive in a world that doesn't usually care about her needs and wants. Rockwell spoke to The Root about the film's recognition and how Inez's story is being received.

'In the Heights' and the Erasure of Dark-Skinned Afro-Latinx Folks
Sundance can be unpredictable, so it's amazing to see such a uniquely Black story receive praise usually reserved for indie darlings. For the director, it affirms the hard work she and the entire team put in.
"It's been really beautiful. The making of this movie, the release and the ways that it's been received so far, it's really a moment of triumph. Not only for me as a filmmaker with my debut film, for everyone, the entire cast and crew," Rockwell told The Root. "Everybody committed themselves so deeply to this project and put so much of themselves in it. It's a beautiful moment for all of us to celebrate. It's been really magical. The way that this movie is shining a light on a lot of people's experiences. It was one thing for me to see them, but now the world is really showing up for them as well. Recognizing their story, championing it, celebrating and embracing it."
As we've seen through this painfully disappointing awards season, our stories—especially those centered around Black women—don't receive the attention they deserve. There's always some other story that needs to be highlighted more. Rockwell sees the success and reception of A Thousand and One as proof that our stories are still being recognized by audiences.
"I had no idea if this being a Black woman's story primarily, if people were going to see her, see us and see what I had to say about us. That sort of adds to the degree to how special I feel this moment is because they're not only seeing me, but they're seeing us collectively," she said. "That's the story that I wanted to tell and that's what I was hoping that people would finally recognize, finally having empathy for us. I'm really appreciative of all the recognition and also the conversations that are being inspired by what people have to say after experiencing the film."
It's extremely difficult to get your first film made. It's 100 times harder when you're a Black woman telling a story about a complicated Black mother. Just the fact that Rockwell got this film over the finish line is a spectacular feat. She's appreciative of how the rest of the team behind the movie supported her through the process.
"Making your first movie, it's a feat in general. Finding the right collaborators, finding the people that helped you get this movie made and working on a small budget to do that. It's just having a limited amount of resources,"Rockwell said. "I appreciated the fact that even though this may not have been something that they intrinsically identified with on the surface, they did identify with the store on a human level. Just the story of these two human beings, fighting for love, fighting for family and fighting for things that we all want universally."
While she still has plenty of work to do with her debut, Rockwell is absolutely thinking about the future and where she goes next.
"I'm already thinking about what I want to do next. I've just begun to develop other ideas and start the writing process for ideas. I'm so excited to begin my journey as officially a filmmaker, but also on TV as well," she said. "That's a wonderful space that I want to be open to and it might give me a bigger platform to share some of the stories that I can't wait to tell."
A Thousand and One opens in theaters March 31.