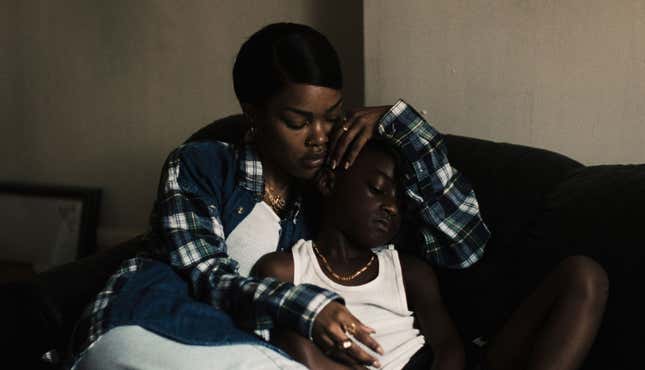 When we first meet singer Teyana Taylor's Inez in A.V. Rockwell's directorial feature debut A Thousand and One, she's fresh out of Rikers Island, walking the streets of a gritty New York City in the mid-90s.
Barack Obama Hosts Working: What We Do All Day, Our TV Pick This Week
She may be down on her luck, but she's not despondent. The spirit undergirding her determined stride makes that apparent. What's not apparent, however, is just how she'll move forward with no place to stay, no income, and no way to provide safety and stability for herself and the quiet, six-year-old she previously left behind, Terry (Aaron Kingsley Adetola). Tired of bouncing from shelter to shelter and subsequently watching Terry go from foster home to foster home, all it takes is one last straw for Inez to decide to walk away from the hard streets for good—this time with Terry in tow.
Though she alienates herself from people who could truly help her thanks to her strong will disguised as arrogance and warranted attitude, she eventually finds her footing working as a cleaner in a nursing home. The job isn't ideal and neither are the living arrangements for now, but it's a place to call home—something both the mother and son never really had. But much like the ever-changing landscape of the city—portrayed through soundbites of speeches of former Mayors Rudy Guliani and Mike Bloomberg about jaywalking and stop and frisks, and shots of an increasingly gentrifying Harlem—things don't stay the same, no matter how hard Inez may want them to.
As Terry grows older, less quiet and more curious about his past, Inez's on-again, off-again lover Lucky (William Catlett) reappears in her life after a stint in jail, serving as an added layer of safety for Inez and a long-desired father figure to a now teenaged Terry. Together, they try to give Terry the life they never had, one filled with opportunities for elevation and escape even if it is built on lie. And despite his flaws and instability, Lucky gives his stepson (through marriage to Inez) a blueprint for manhood on which he can build upon—which makes his eventual health turn for the worse that much more unfortunate as it's yet another reminder of life's frailty.
"Life is about more than just fucked up beginnings," Inez tells her son at one point in the film. And while strides may have been made to put more space between their fucked up beginning and the bright future ahead for Terry—the truth that's been stewing and haunting their home built on lies is bound to bubble over to the surface. And when it does, it's a long-awaited moment that allows a soon-to-be 18-year-old Terry (Josiah Cross) to shine and a compelling Taylor to stun as the aftermath plays out.
"Where is home for me now?" Terry asks in the feature's final scenes. It's a question made more visceral when put against the backdrop of a now unrecognizable city and a completely broken chosen family torn apart by secrets. What's unsure is where the promising son and his mother, for that matter, will go from here. But what's certain is that A Thousand And One is an emotionally-gripping, strong yet steadfast love story that proves to be the perfect leading vehicle for Taylor to show her immense talent and once again why she's one to watch from here on out.