Updated Tuesday, Dec. 5, 2017, 4:50 p.m. EST: Shortly after publishing this, I tweeted that I personally believe Terry Crews should also sue William Morris Endeavor for turning a blind eye to Venit's bullshit and not openly addressing it until Crews went public with his story.
Crews responded to my tweet and said that WME is also named in the lawsuit.
Good.
Earlier:
Nearly two months after revealing that he was sexually assaulted at a Hollywood party in 2016, actor and comedian Terry Crews has filed a lawsuit against the WME agent he says is guilty of groping his genitals.
G/O Media may get a commission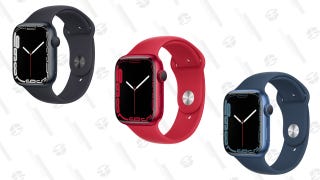 Up To $45 Off
Apple Watch Series 7
TMZ reports that in the lawsuit Crews filed against Adam Venit, he accuses Venit of staring at him "like a rabid dog, sticking his tongue in and out of his mouth provocatively." He goes on to say that after Venit grabbed his genitals, he pushed him away and yelled to Adam Sandler, "Adam, come get your boy! He's grabbing my nuts."
On his way home from the event, Crews received a phone call from Sandler—who asked if he was OK. Crews told him he was surprised that he got molested at age 48, and Sandler reportedly expressed shock at Venit's actions.
Crews said that he called his agent at William Morris Endeavor, where Venit works, and told him about the alleged assault. Venit phoned him a few hours after that call and apologized, saying he was just not himself that night.
Crews then met with WME Chairman Ari Emanuel, who reportedly apologized for Venit's behavior. When Crews told Emanuel he was afraid of retaliation, Emanuel assured him that Venit "did not have that level of power despite his title as head of the Motion Picture Department."
Despite those assurances, Crews still worries about Venit's power in the industry and how that could hurt his career. He also says he has suffered psychologically and has never felt more emasculated and objectified.
Crews revealed the assault through a series of tweets on Oct. 10. Last month he filed a police report detailing the assault.
He has been very vocal on Twitter about the assault as well.