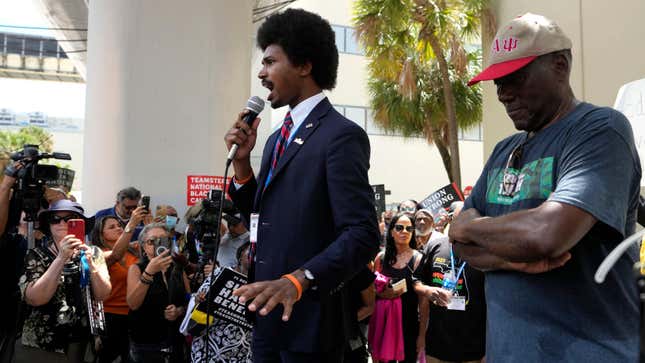 On Wednesday (August 16), educators, students and labor leaders marched to the School Board of Miami-Dade County to protest Florida's new standards for teaching Black history in public schools. Around 50 protestors started their one-mile journey at Booker T. Washington Senior High School in the city's historically Black neighborhood, Overtown.

White People, Here's Why We Need Black History Month
Governor Ron DeSantis and his administration now require middle school teachers to instruct students that slavery helped Black folks develop skills "which, in some instances, could be applied for their personal benefit." Not only was this disgusting lie quickly met with backlash, but it was also prominently called out by Vice President Kamala Harris.
Tennessee Rep. Justin Pearson, who recently regained his seat after being expelled by lawmakers, was one of the protestors who passionately spoke to the crowd. "The true history is that Black people have always fought to make America what it ought to be, and it has always resisted what it could be," Pearson stated. "We've always fought for the America that we know is possible. That is not here yet."
Florida International University professor and march organizer Marvin Dunn also discussed the dangerous absurdity of DeSantis' latest stunt. "These new state standards that DeSantis has come up with will not be tolerated in our schools," Dunn said. "We will not let our children be taught that slaves benefited from their slavery. That's a lie."
In addition to this new anti-Black provision, the DeSantis administration has also stopped a new AP African American studies course from being taught in high schools, signed the "Stop WOKE act" into law and cut university funding for diversity programs. The only thing scarier than DeSantis being governor is him being president come 2024—although it looks unlikely that it will happen.