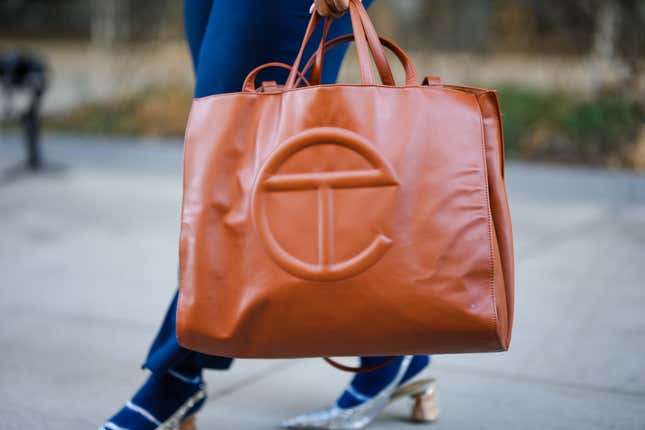 If you're a bargain hunter like me, you ferociously stalk the clothes and shoes you want, hoping your size will still be in stock when they eventually go on sale. It's a strategy that can often end in disappointment. But the feeling you get when you can get your hands on a pair of designer shoes for a fraction of the price definitely makes it all worth it.
America's Got Talent Host, Terry Crews, Shows Full Gratitude For Writers On Strike
Now, Telfar is rolling out a new dynamic pricing strategy that flips that sales model on its head and puts customers in control. The Brooklyn-based fashion house led by Telfar Clemens is launching their new plan with their latest collection of unisex apparel, set to drop on March 27.
Clemens developed the idea to let popularity determine the price of the products with creative director Babak Radboy. When the new collection drops, items will be listed at wholesale price and increase by one cent every 20 minutes or $10 - 20 every week. And the final price will set the cost for the collections that follow. "The sell-out price will be the forever price," Radboy told Fast Company.
Since the brand's launch in 2005, Telfar has gone out of its way to flip the script on what luxury looks like. "Many brands use price as a barrier to entry. I never wanted that for my brand," designer Telfar Clemens told Fast Company. Best known for its logo tote bags affectionately known as the "Bushwick Birkin," they've consistently kept the price between $150-250 depending on the size. Famous fans include Oprah Winfrey, Zoe Kravitz and none other than Queen Bey herself.
In addition to giving customers more control, the new pricing model will give Telfar a better idea which products are in the highest demand and effectively help them better manage their manufacturing costs. "This will give us information about how much of each product we should order in the future," Radboy said.
And ultimately, they'll be able to keep making sure the clothes remain accessible to the people who want them. "I want people who want my clothes—and will look cool in it—to be able to get it," Clemens said.