Possessed Rainbow Brite doll Tekashi 6ix9ine is facing down a potential life sentence for armed robbery, racketeering, and drug trafficking.

Tekashi might have finally gotten himself into some shit he can't wiggle his way out of with good lawyers or the inexplicable cosigns he's gotten from other rappers despite pleading guilty to use of a child in a sexual performance and violating the terms of the plea deal.
In addition to the laundry list of charges he's racked up, he's had some issues with his booking agents, whom he recently fired. They've threatened to sue him over defamatory comments he's made in the time since.
Aight, so boom. Tekashi recently went back to the Breakfast Club because they love fanning the flames of a trash fire. Because all his legal issues weren't enough drama, he complained about hosts ignoring his music… then defended his habit of saying "nigga." Yeah, that's one way to get people to focus on your music, chief.
"Who gon stop me? Who? Why can't I say it?" Tekashi asked, before going on to explain that it was part of his culture as someone who grew up in Bushwick, Brooklyn. It's not the first time I've heard someone use that argument in favor of allowing a non-black person to use black slang… and it's not the first time the argument has been bullshit.
G/O Media may get a commission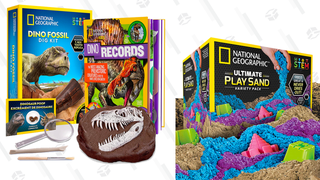 Up to 33% off
National Geographic Science and Activity Kits
I wonder if he'll keep up his usual energy in prison, since he got denied bail even after offering $1.7 million and saying he'd relinquish his passport. Ouch.
This motherfucker should have been out of the paint, so I'm hoping the shitstorm growing around him will quiet him down a little bit. I guess he finally proved he's about that life… sentence.
No, but seriously, fuck this dude.