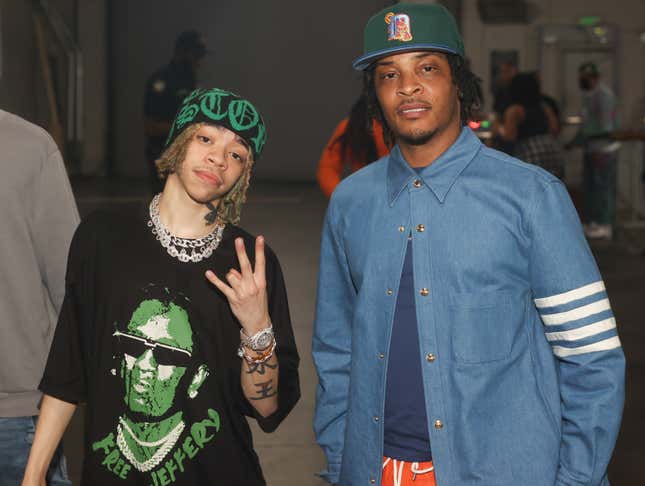 There's a serious contempt for the unhoused in this country and it needs to be stopped. From aggressive architecture, to legislation and laws specifically designed to target the homeless, America has a lack of compassion for those who are struggling to get back on their feet. This issue can be seen on full display in a recent video starring King Harris, the 19-year-old son of rap star T.I. In a video posted to his Instagram Stories on Friday, the teenager offers a homeless man $50 to participate in the viral One Chip Challenge.

Nat Geo's Jeff Jenkins On Facing Greatest Fears, Building A Plus Size Community & More
In case you don't spend your whole life on social media, this involves eating Paqui's spicy tortilla chip and making it five minutes without drinking something to subdue the spice. It's meant to lead to hilarious reactions as people deal with the extreme heat. The chip is made with Carolina Reaper Peppers and Naga Viper Peppers, which are among the spiciest in the world. Unfortunately, this is one of the more dangerous challenges to hit the internet. A high school sophomore recently died after doing the challenge. In response, Paqui pulled the chip from shelves. However, it looks like King Harris didn't get the news.
In the disgusting video, he can be heard offering the man $50 to eat the chip. When he then reaches for water, Harris tells him he will lose if he drinks it and offers to buy him milk after the challenge is over. The aspiring rapper and his friends proceed to laugh at this man's confusion and pain, further humiliating him just because they can.
If they just wanted to have fun doing this internet challenge, one of them could have taken it. The fact that they specifically bought the chip, then went looking for a homeless person to do this to is reprehensible and cruel. After the man finally relents and drinks the water, Harris says, "He done lost, but I gave him $20." Oh wow, a whole $20? You're a true philanthropist.
You're from a rich family, you could have just given him $50 and moved on with your life. Seriously, the way he maniacally laughs throughout the clip demonstrates a shocking lack of empathy for other people. Did you even consider this man a person, or was he just an NPC in whatever ridiculous game you and your stupid friends were playing?
As you would expect, the internet responded by letting Harris know exactly how horrible his actions were. For his part, King posted a message to Instagram on Monday that could have been about the criticism, or could have been just another ego driven moment.
"Out of All the times the internet tried to tear me down…I held my spot down head up through it all and came out smiling on top," he wrote. "Shout out to my REAL supporters and fans for never switching up on me."
At 19, this young man should certainly know better than this, but his behavior also speaks to a lack of accountability from his parents. When you see a video like this, that means T.I. needs to step in and teach his son how to be the kind of man who sees this person as someone who needs help and understanding, not as a chance for humiliating views on the internet.